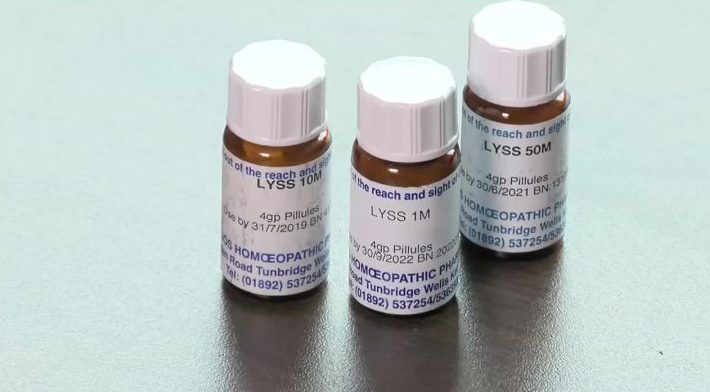 The federal government is investigating an unlicensed homeopathic remedy made from rabid dog saliva that a Victoria naturopath said she used to treat a small boy.
In a February blog post, Anke Zimmermann chronicled her treatment of a four-year-old boy with sleep and behavioural issues, including aggression and violence.
Zimmermann says she suspected the issues were caused by a dog bite when the boy was two and she treated him with lyssin, which is derived from the saliva of a dog with rabies.
Health Canada has confirmed that the lyssin, which is also known as hydrophobinum or lyssinum, was produced by Helios Homeopathy in the United Kingdom.
The lyssinum produced by Helios is not licensed for clinical use in Canada.
Health Canada has opened an investigation.
"Health Canada takes the safety of health products on the Canadian market very seriously. Before a homeopathic product can be sold in Canada, it must meet Health Canada's high standards to demonstrate that the product is safe.  The lyssin/hydrophobinum products on the Canadian market approved by Health Canada are safe for consumption," Eric Morrissette, chief of media relations for Health Canada, said in a statement.
"Should a product not meet the terms of its market authorization, Health Canada will take immediate action."
Before a homeopathic product can be sold in Canada, it must meet Health Canada's standards to demonstrate that the product is safe, meets the requirements set out in product monographs, and has been produced using modern quality standards. Lyssin treatment is approved in general by Health Canada. But Dr. Bonnie Henry, B.C.'s Provincial Health Officer is now questioning that approval.
"There is no evidence I'm aware of that shows lyssin has any therapeutic benefit," Dr. Henry said earlier this week. "More importantly, I'm concerned that if a product did actually contain what is suggested — saliva from a rabid dog — that would put the patient at risk of contracting rabies, a serious, fatal illness."
On her website, Zimmerman said she is removing the blog post as she has been receiving "hundreds of hateful messages, including threats of injury, every day." She said the family involved in the treatment is also distressed.
"I would be happy to give Dr. Bonnie and several hundred of her colleagues a riveting introduction to homeopathy. Once you know about it, you might find it most interesting as most doctors are highly intelligent, only accidentally biased and uninformed due to the relentless efforts of the pharmaceutical industry. We don't know what we don't know," Zimmerman wrote on her website.
Homeopathic products prepared directly by homeopaths are regulated under provincial and territorial rules. The BC Naturopathic Association has filed a formal complaint against Zimmerman.