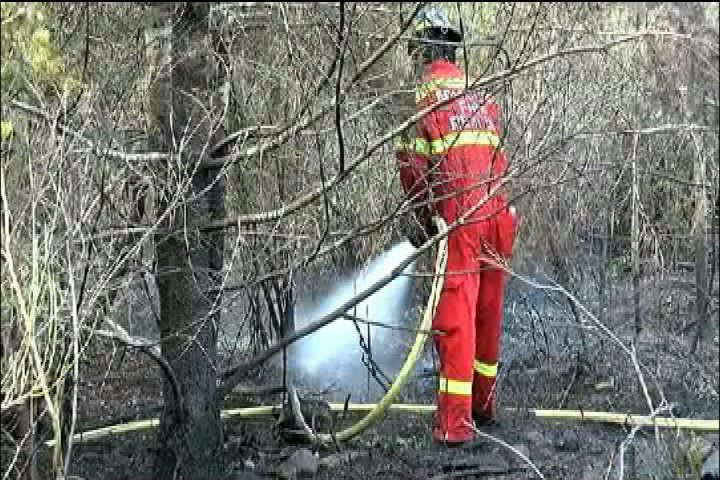 WATCH: Aggressive wildfire near Coombs sparks massive response

The fire fears continue to grow in British Columbia and there are concerns people on Vancouver Island may not be taking the risk seriously enough.
Crew were called to another aggressive wildfire, this time near Coombs along Highway 4 near the Island Highway, that broke out late Thursday afternoon.
The challenging blaze was only brought under control due to the massive responsive from six different area fire departments and a total of 55 firefighters and a BC Forest Service helicopter.
"These fires are very hard on manpower so the support is really appreciated, however we are tapped out on the mid Island," says Chief Aaron Poirier of the Coombs-Hilliers Fire Department.
The highway had to be shutdown and the Coombs Country Campground evacuated as a precaution, as crews fought to contain the fire before it could do any major damage.
" The local fire departments were able to get on top of it pretty much immediately so instead of hundreds of hectares it was probably less than an acre and as long as we can continue to respond at that level we're fine but if one gets away, who knows how bad it could be," warns Fred Manson of the City of Parksville.
Around 200 fires are burning in BC, with several evacuation orders and states of emergency in effect but despite the fact that more than 260,000 hectares have burned already, officials say people don't seem to be getting the message about how serious the BC wildfire situation is given many of the fires are human-caused.
" It's very troubling to see these fires," says Chief Poirier. "There's no need for these kind of fires, this is all perfectly preventable."
The greatest fire fear now – a major blaze near a heavily populated area.
"There could be evacuations, you've seen it in lots of other communities," cautions Manson. "Hopefully it will never happen here but the possibility exists."