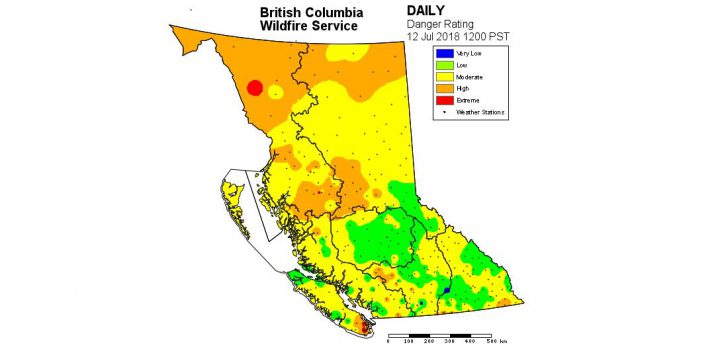 A lack of precipitation has led to an extreme fire danger rating for parts of eastern Vancouver Island.
According to the Coastal Fire Centre, an area from Duncan to Cedar has an "extreme" fire rating, which is the highest rating under the BC Wildfire Service. Extreme fire ratings means that there are extremely dry forest fuels in the area and the fire risk is serious. New fires can start easily, spread rapidly and challenge fire crews.
Fire information officer Donna MacPherson with the Coastal Fire Centre said a "lack of even precipitation" caused the fire danger rating to go up in the area. 
The Coastal Fire Centre is under Category 2 open burning prohibition but a campfire ban and forest use restrictions are not in effect.
The open burning prohibition was issued on May 18 and applies to open fires smaller than two metres high or three metres wide. It also applies to the burning of stubble or grass fires over an area less than 2,000 square metres, the use of fireworks, firecrackers, sky lanterns, burning barrels or burning cages of any size or description, and the use of binary exploding targets (e.g. for rifle target practice).
The Haida Gwaii Natural Resource District and the "Fog Zone" are exempted from the prohibition.
MacPherson said there should not be a campfire ban over the weekend but they will have another look at the weather forecast on Monday.
There are two wildfires burning on Vancouver Island. One is near the Buckley Bay off ramp and is 0.10 hectares. It was discovered on Wednesday and is suspected to be human-caused. The other wildfire is west of Kennedy Lake on the other side of the island. It was also discovered Wednesday and it is 0.01 hectares in size. It is also suspected to be human-caused.