[google_map src=""]
Police in Duncan are looking for the person responsible for throwing a rock at a 67-year old man from a passing vehicle.
The incident took place on Sherman Road at around 10:15 p.m. on Monday.
The man was knocked to the ground after being hit by a baseball-sized rock — thrown by the passenger of a car driving by.
The victim was hit in the lower back and is being treated for his injuries.
Police believe it was a random act.
"This could have been tragic should the rock have hit him in the head", added Cpl. Krista Hobday.
Police say the victim could provide few details because it was dark and he'd wound up on the ground.
It may not be an isolated incident.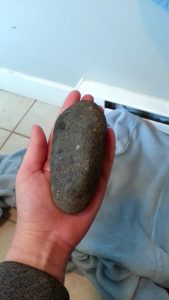 Photo/Facebook
A Duncan woman posted a message on Facebook on Tuesday also reporting that she'd been hit by a rock thrown from a passing vehicle.
It happened on Trunk Road at around 8:30 p.m.on Sunday.
"I was walking home from dinner the other night," she writes
"And someone drove by and threw a rock at me. LUCKILY it did not hit my head, it hit my thigh."
The woman reports that she suffered a bad bruise but is otherwise okay.
It is not confirmed that the two incidents are related.
if you have any information, please call North Cowichan/Duncan RCMP at 250-748-5522, or Crime Stoppers at 1-800-222-TIPS (8477)