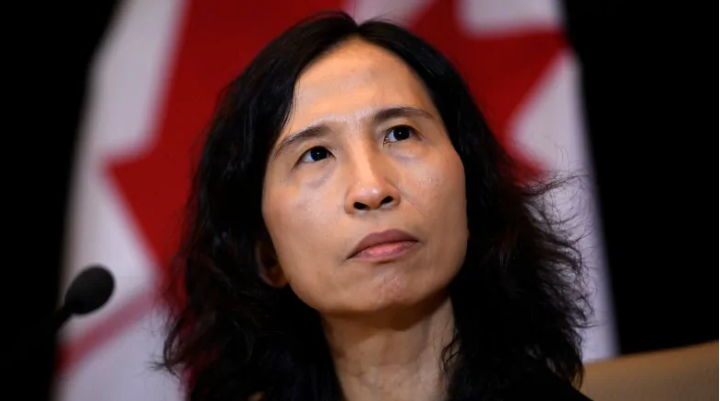 New federal forecasts say all large provinces need to strengthen their COVID-19 response "now" to slow the spread of the virus.
Updated modelling from the Public Health Agency of Canada indicates that Canada continues to be on a "rapid growth trajectory," with daily cases expected to cross the 10,000 mark later this month.
The projections released Friday anticipate at least 90,000 more diagnoses by Christmas Day, and potentially as many as 135,000. They also forecast between 1,300 and 1,800 more deaths in the next two weeks.
Canada's chief public health officer Dr. Theresa Tam says there are now more than 73,200 active COVID-19 cases in Canada, up from about 52,000 just three weeks ago.
Dr. Tam says that ongoing high rates of infections in wider communities lead to more and bigger outbreaks and spread within high-risk settings that include hospitals, schools, correctional facilities, shelters and long-term care homes.
She says despite more than 440,000 cases since the start of the pandemic in Canada, just over one per cent of Canadians have tested positive for COVID-19 so far. As of Friday, more than 355,000 Canadians have recovered from COVID-19.
The data suggests infections continue to climb in many provinces, with rates rising precipitously in Alberta, Saskatchewan and Manitoba.
There is hope though, the health agency says the curve can be bent downward if Canadians reduce their contacts with others to only the essentials, but if we keep on as we are, the pandemic will continue to get worse in Canada.
B.C. has been averaging approximately 700 new cases a day in the past week, announcing 723 new cases on Thursday.
Provincial health officer Dr. Bonnie Henry extended the COVID-19 restrictions on Monday, prohibiting all social gatherings with people outside of your household.
READ MORE: B.C. reports 723 new cases of COVID-19, 10 new in Island Health as daily deaths near 30
With files from the Canadian Press