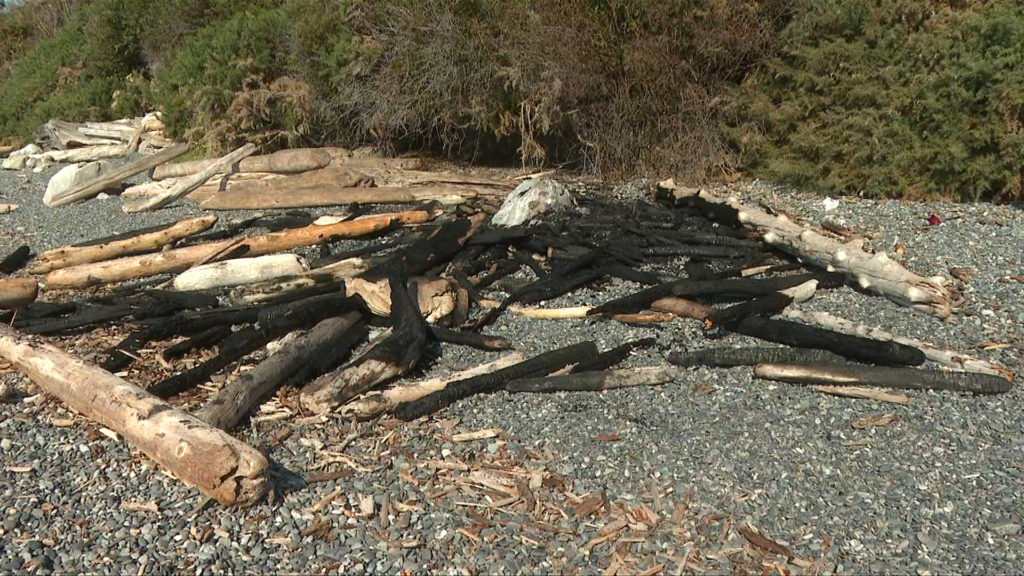 Victoria's fire chief is reminding residents that beach fires are not permitted after a large, unattended beach fire burned along Dallas Road on Thursday evening.
Victoria Fire Chief Dan Atkinson says a community member called 911 about the beach fire just after 9 p.m.
One fire crew was initially dispatched to the fire, but shortly after emergency services received several more 911 calls "stating that it was quite large."
"So we upgraded that alarm to a second alarm, so we ended up responding with two companies, a total of eight firefighters," said Atkinson.
Firefighters spent about an hour dousing the flames, which were largely contained to the beach.
It spread very slightly onto the embankment before being extinguished, according to Atkinson.
Story continues below.
He adds that it was lucky the fire was reported early in the evening and was spotted before it grew larger.
"Had this been a little later at night there's no doubt in my mind that it would have grown larger and spread up the embankment," he said.
Atkinson says the fire appeared to be a campfire that was left unattended.
"The big thing is, beach fires aren't allowed at any time of year in Victoria," he said.
He warns that people may not be aware that beach fires can potentially erode the banks of Dallas Road, which can impact beach access for everyone in the future.
"It's just one of those things where it's a lack of consideration and a lack of understanding about the true impact," he said.
SEE ALSO: Dallas Road beach fire spreads, burns 300 sq. metres of greenspace