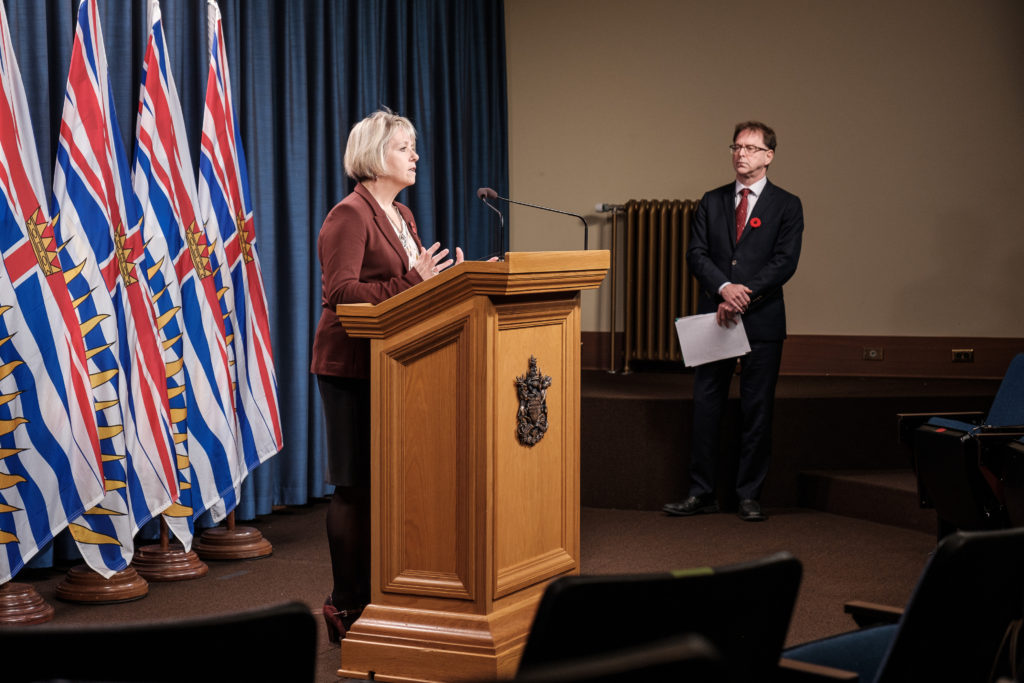 File photo/Province of BC.
B.C. health officials recorded 998 new cases of COVID-19 over the last two days, including 12 new cases in Island Health.
From Saturday to Sunday, there were 536 new cases and from Sunday to Monday, there were 462 new cases.
There were also five COVID-19 deaths over the last two days. B.C.'s COVID-19 death toll is now 281.
Over the last two days, there were 12 new cases in Island Health, 210 new cases in Vancouver Coastal Health, 737 in Fraser Health, 28 in Interior Health and 11 in Northern Health. There were no new cases among people who normally reside outside of Canada (visitors and temporary foreign workers).
B.C. has now had a total of 18,714 cases since the start of the pandemic: 301 in Island Health, 898 in Interior Health, 11,257 in Fraser Health, 5,699 in Vancouver Coastal Health, 469 in Northern Health and the remaining among people who normally reside outside of Canada.
There are currently 4,891 active cases (1,150 more than Nov. 6) and 9,179 people under active public health monitoring due to exposure to known cases (1,292 more than Nov. 6).
There are 133 people in hospital with COVID-19 (29 more than Nov. 6), with 43 in intensive care (15 more than Nov.6). A total of 13,425 people have recovered.
There are no new community outbreaks.
There are two new healthcare outbreaks and three outbreaks have been declared over. The two new outbreaks are at Harrison Pointe and Normanna. The outbreaks at Fair Haven Homes Burnaby Lodge, at PICs and at The Gateway Assisted Living for Seniors have been declared over. In total, 32 long-term care or assisted-living facilities and five acute-care facilities have active outbreaks. They are:
Banfield Pavilion in Vancouver Coastal Health
Haro Park Centre (second occurrence) in Vancouver Coastal Health
Hamilton Village Care Centre in Vancouver Coastal Health
Lakeview Care Centre in Vancouver Coastal Health
Louis Brier Home & Hospital in Vancouver Coastal Health
Pinegrove Place in Vancouver Coastal Health
Royal Arch Masonic Home (second occurrence) in Vancouver Coastal Health
Three Links Care Centre in Vancouver Coastal Health
Yaletown House in Vancouver Coastal Health
Agassiz Seniors Community in Fraser Health
Amenida Seniors Community in Fraser Health
Belvedere Care Centre in Fraser Health
CareLife Fleetwood in Fraser Health
Evergreen Baptist Care Society in Fraser Health
Fellburn Care Centre in Fraser Health
Fort Langley Seniors Community in Fraser Health
Good Samaritan Delta View Care Centre in Fraser Health
Harrison Pointe in Fraser Health
Laurel Place in Fraser Health
Hawthorne Seniors Care Community – long-term care in Fraser Health
Hawthorne Senior Care Community – assisted living in Fraser Health
Mayfair Terrace Retirement Residence in Fraser Health
Normanna (second occurrence) in Fraser Health
Northcrest Care Centre in Fraser Health
Rosemary Heights Seniors Village in Fraser Health
St. Michael's Centre in Fraser Health
Suncreek Village in Fraser Health
Tabor Home (second occurrence) in Fraser Health
The Residence in Mission in Fraser Health
White Rock Senior Village (second occurrence) in Fraser Health
Rotary Manor Dawson Creek in Northern Health
Village at Mill Creek in Interior Health
Monday's briefing follows the announcement this weekend of new COVID-19 restrictions for the Vancouver Coastal Health and Fraser Health regions for a two-week period as cases in the province surge. The new orders focus on social gatherings, travel, indoor group exercises and workplaces.
Residents of both regions are being told not to have social interactions with anyone outside of their immediate household. The province clarified on Sunday that the ban on gatherings from people outside your household includes outdoor gatherings and gatherings in restaurants.
Dr. Bonnie Henry, the provincial health officer,has strongly recommended that travel in and out of the Fraser Health and Vancouver Coastal Health regions be limited to essential travel only.
Businesses and recreation centres that operate indoor group physical activities — like spin classes, yoga, and exercise classes — have been told to suspend these activities.
Henry said on Monday the purpose of these orders from the weekend is to break those chains of transmission, as those transmissions were happening at a rapid rate in parts of our province, particularly Vancouver Coastal Health and Fraser Health.
She also said it's time to return to the strict safety measures that people were following in the spring when the pandemic began, postponing social gatherings, cancelling play dates, working from home whenever possible and pausing non-essential travel.
"This latest action in our COVID-19 response is about putting the brakes on the virus," she said.
According to Henry, the goal is to stop the rapid spread of COVID-19 that has been seen in recent weeks, while still allowing the health-care and school systems to operate normally.
"If you are in doubt about whether to travel or whether to see somebody, don't do it," Henry said on Monday.
According to Henry, people can still go to work, but if someone is able, this is time to take a pause and consider working from home. People can still go to restaurants but follow the safety rules and the rules for their region.
"Yes, it's safe to be outside," Henry said Monday. She said people can go for a walk with one or two friends and keep a distance, but said people should not have gatherings like a backyard barbecue.
Henry said she doesn't expect numbers to start to go down until next week if the orders are effective.
Island Health
There are 39 active cases of COVID-19 in Island Health as of Nov. 9: 18 in southern Vancouver Island, 13 in central Vancouver Island and eight in northern Vancouver Island.
Island Health has now had a total of 301 cases since the start of the pandemic.
Southern Vancouver Island includes the Greater Victoria region, Southern Gulf Islands and the Port Renfrew area.
Central Vancouver Island includes the Cowichan Valley, Duncan, Nanaimo, Parksville, Port Alberni and Tofino areas.
Northern Vancouver Island goes from the Comox Valley to Port Hardy but also includes surrounding areas like Alert Bay and Sointula.
Horgan says return to lockdown measures possible if COVID-19 cases spike
Premier John Horgan did not rule out returning to lockdown measures in British Columbia if the number of COVID-19 cases continues to climb.
Horgan made the statement in his first address after the final absentee and mail-in vote count over the weekend that gave the New Democrats a decisive majority government.
He says if B.C. residents want to avoid the heavier restrictions of the early days of the pandemic, they have to find safe ways to gather, celebrate and observe life events using technologies instead of meeting in person.
The premier says his party was given a "strong mandate" to make sure the province gets through the pandemic safely and effectively, and that's going to be his government's commitment.
Horgan says he hopes to bring members back to the legislature before Christmas, but that will depend on the increasing COVID-19 case numbers.
The final vote count after the election on Oct. 24 gave the New Democrats 57 of 87 seats in the legislature, the Liberals 28 seats and the Greens two, although a judicial recount is pending after the Liberal candidate in West Vancouver-Sea to Sky beat the Green candidate by 41 votes.
"It's humbling to have the support of 48 per cent of British Columbians," Horgan said during a news conference on Monday. "It's humbling to have the prospect of having 56 colleagues join me here in the legislature."
He says he'll be forming a new cabinet in the days ahead.
More COVID-19 information
If there is a confirmed COVID-19 case in a school, public health contacts affected school community members directly. Regional health authorities also post school notifications on their websites, providing the date and type of notification (outbreak, cluster or exposure) for impacted schools.
The Island Health school site can be found here.
There is one school exposure posted for Island Health. The COVID-19 exposure was at Dover Bay Secondary at 6135 McGirr Road in Nanaimo on Nov. 2 and Nov. 5.
Island Health's COVID-19 data breaks down North, Central and South Island case counts and lists the number of days since any new lab-diagnosed cases. You can find the data here along with any public exposures.
To see B.C.'s COVID-19 numbers by day and health authority, along with testing numbers, positivity rates and recoveries, visit the B.C. COVID-19 dashboard.  The numbers are updated at 4:30 p.m. PT each weekday.
To see a list of all provincial public COVID-19 exposures in the province, including links to exposures listed on health authority websites, visit the B.C. Centre for Disease Control website ( BC CDC) here.
Island Health has one possible exposure listed: Tofino Brewing Co. at 691 Industrial Way in Tofino B.C. on Oct. 27 from 5 p.m. to 7 p.m.
Island Health provides updates on the locations and times of known possible exposures to COVID-19 to the public in our region when they are unable to reach or identify all individuals potentially exposed via contact tracing. A close contact exposure means face-to-face contact for an extended period of time with a person who is infectious.
The possible exposures listed are believed to be low risk but, out of an abundance of caution, Island Health asks that anyone who may have visited any of the locations listed on the specified dates and times to monitor themselves for COVID-19 symptoms.
And the BC CDC has set up a COVID-19 epidemiology dashboard, which compares B.C. to other jurisdictions nationally and globally. It will be available on Tuesdays and Fridays.
According to Johns Hopkins University and Medicine, the number of confirmed COVID-19 cases worldwide is more than 50 million. More than 1.2 million deaths have been recorded.
Watch Dr. Bonnie Henry and Minister Adrian Dix on Nov. 9: 
With files from The Canadian Press and Bethany Lindsay,CBC
More to come