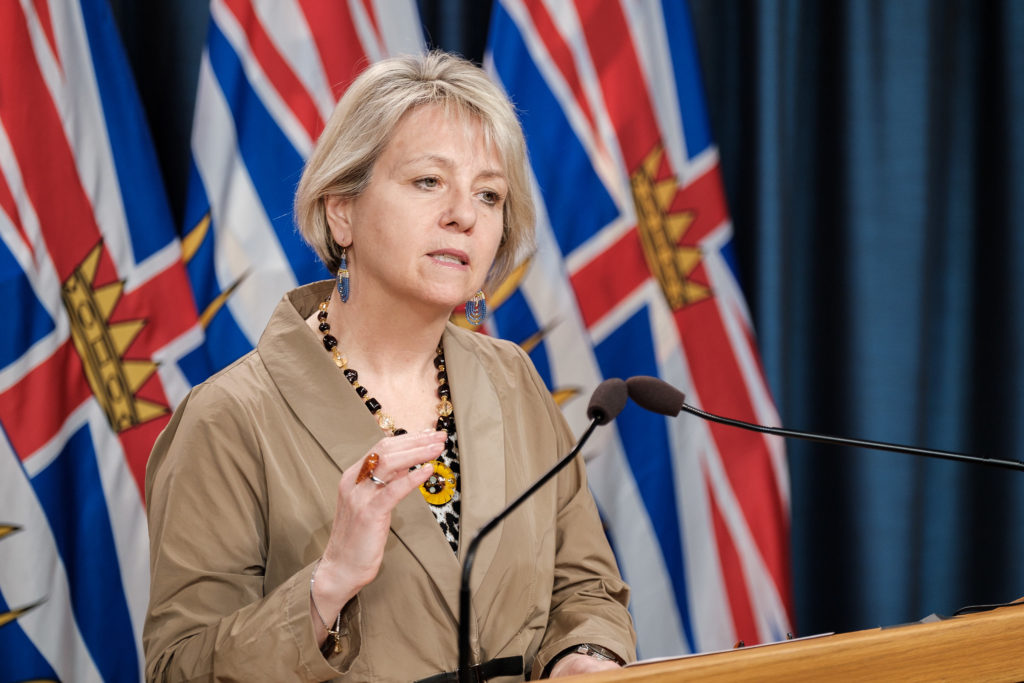 British Columbia is reporting 449 new cases of COVID-19 for the entire province with nine additional deaths in that span.
Of the 449 new cases, 19 are linked to the Island Health region.
There are currently 4,317 active cases in British Columbia, while 6,869 residents remain under active public health monitoring.
Dr. Bonnie Henry says that 224 are in hospital – a decrease of 6 since Feb. 10 – with 63 people in critical care as a result of the virus (a decrease of three).
Since Wednesday's numbers, there have been 93 new cases of COVID-19 in the Vancouver Coastal Health region, 242 in the Fraser Health region, 19 in the Island Health region, 58 in the Interior Health region, 37 in the Northern Health region and no new cases of people who reside outside of Canada.
There were nine additional deaths related to the virus on Thursday. This brings the provincial death total over the course of the pandemic to 1,278.
Also as of Thursday, the total number of cases in British Columbia over the course of the pandemic has reached 66,603.
Health officials also said that 159,887 people have received a COVID-19 vaccine in B.C, 15,684 of which are second doses. Immunization data is available on the COVID-19 dashboard at: www.bccdc.ca.
In a joint statement released by Dr. Henry and Health Minister Adrian Dix, the duo took a moment to acknowledge the other health crisis that is currently facing British Columbians.
"For many of us, this past year will be remembered for the incredible toll that COVID-19 has taken on our province. But of equal importance is the ongoing overdose emergency that has challenged our province even before the pandemic began," reads the statement.
"Losing more than 1,700 people to the overdose crisis is devastating, and sadly there is no vaccine that will help to end it soon."
According to the BC Coroners Service, 2020 was B.C.'s worst year yet in terms of the number of lives lost due to illicit drug overdoses.
There were 1,716 deaths due to illicit drugs in 2020 in B.C., a 74 per cent increase over the 984 deaths recorded in 2019.
This high number of illicit drug toxicity deaths in 2020 is equal to about 4.7 deaths per day, which is two deaths per day higher than in 2019.
"To the parents, friends, partners and communities who have lost loved ones, we offer our condolences. We remain committed to supporting people who use drugs and are doing everything we can to address the dual health crises affecting our province," said Dr. Henry and Minister Dix.
Dr. Henry and Dix note that the COVID-19 pandemic has shed further light on "inequalities that are all too pervasive in our society," and the duo is encouraging British Columbians to remain kind and compassionate to each other.
Island Health
According to the latest data provided by Island Health, there are currently 220 active cases on Vancouver Island.
Of the active cases, 58 are on southern Vancouver Island, 152 on central Vancouver Island and 10 on northern Vancouver Island.
Southern Vancouver Island includes the Greater Victoria region, Southern Gulf Islands and the Port Renfrew area.
Central Vancouver Island includes the Cowichan Valley, Duncan, Nanaimo, Parksville, Port Alberni and Tofino areas.
Northern Vancouver Island goes from the Comox Valley to Port Hardy but also includes surrounding areas like Alert Bay and Sointula.
Over the course of the pandemic, the Island Health region has reported 1,919 cases.
More COVID-19 information
If there is a confirmed COVID-19 case in a school, public health contacts affected school community members directly. Regional health authorities also post-school notifications on their websites, providing the date and type of notification (outbreak, cluster or exposure) for impacted schools.
The Island Health school site can be found here.
Provincial mental health and anxiety support can be found at www.bouncebackbc.ca
Island Health's COVID-19 data breaks down North, Central and South Island case counts and lists the number of days since any new lab-diagnosed cases. You can find the data here along with any public exposures.
According to data collected by Johns Hopkins University and Medicine, the number of confirmed COVID-19 cases worldwide is more than 107.6 million. More than 2.36 million deaths have been recorded.