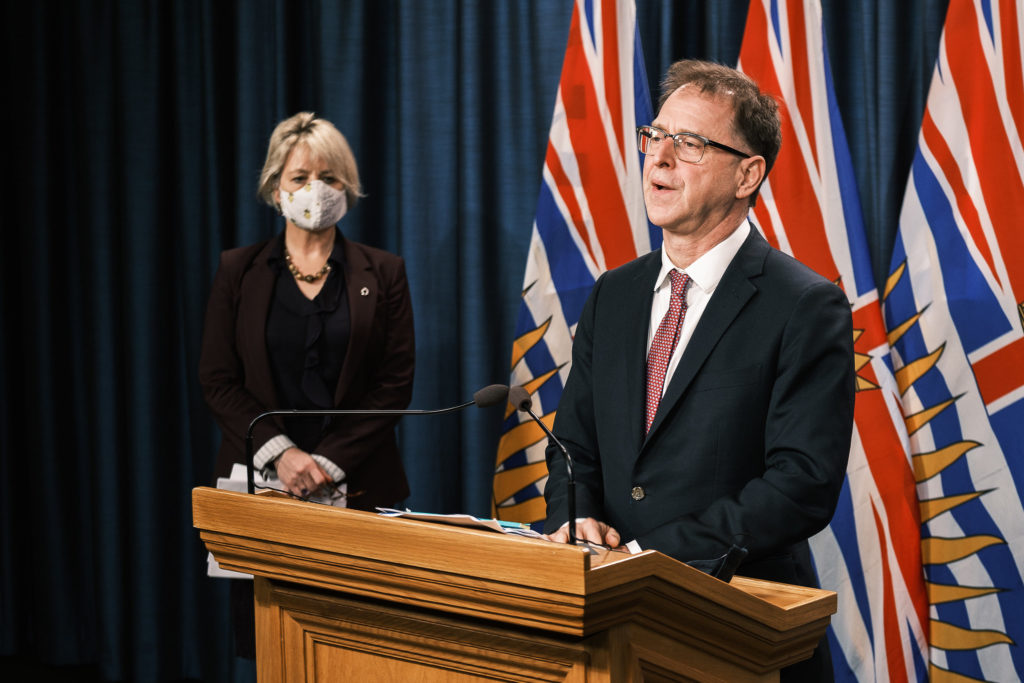 British Columbia is reporting 471 new cases of COVID-19 for the entire province with six additional deaths in that span.
Of the 471 new cases, 28 are linked to the Island Health region.
There are currently 4,423 active cases in British Columbia, while 6,886 residents remain under active public health monitoring.
Dr. Bonnie Henry says that 253 are in hospital – a decrease of four since Feb. 4 – with 70 people in critical care as a result of the virus (a decrease of six).
Since Thursday's numbers, there have been 108 new cases of COVID-19 in the Vancouver Coastal Health region, 208 in the Fraser Health region, 28 in the Island Health region, 56 in the Interior Health region, 71 in the Northern Health region and no new cases of people who reside outside of Canada.
There were six additional deaths related to the virus on Friday. This brings the provincial death total over the course of the pandemic to 1,246.
Also as of Thursday, the total number of cases in British Columbia over the course of the pandemic has reached 69,716.
Health officials also said that 149,564 people have received a COVID-19 vaccine in B.C, 10,366 of which are second doses.
Today's numbers were released by a written statement after Dr. Henry and Health Minister Adrian Dix revealed new modelling data at a live press conference on Friday morning.
"There are some encouraging signs that the efforts of people throughout our province are working," reads a joint statement regarding the modelling data. "By spending less time with others, by staying local and using our layers of protection, we are flattening our curve."
"We want to protect the progress we have made since the start of the year and not throw away our success," the duo added.
In addition to the data presented, Dr. Henry also announced an indefinite extension of the current COVID-19 regulations the limit gatherings and events in British Columbia.
"Between now and the end of the month, we will be continually reconsidering the need for the restrictions based on incidence and prevalence of the virus, new information about transmission, especially understanding the impact of variants, and the progress of vaccine supply and our immunization program," reads the joint statement.
Health officials say that they will be reassessing the landscape as the end of February approaches in order to decide whether more restrictions or needed or if they can be eased.
"Each holiday and occasion this month – Super Bowl, Lunar New Year, Family Day or Valentine's Day – is an opportunity for us to either allow the virus to spread or to slow it down even more. The choice is ours to make."
Dr. Henry continues to push the message of staying small and staying local.
Island Health
Island Health has yet to release the breakdown of active cases across Vancouver Island for Feb. 5.
More COVID-19 information
If there is a confirmed COVID-19 case in a school, public health contacts affected school community members directly. Regional health authorities also post-school notifications on their websites, providing the date and type of notification (outbreak, cluster or exposure) for impacted schools.
The Island Health school site can be found here.
Provincial mental health and anxiety support can be found at www.bouncebackbc.ca
Island Health's COVID-19 data breaks down North, Central and South Island case counts and lists the number of days since any new lab-diagnosed cases. You can find the data here along with any public exposures.
According to data collected by Johns Hopkins University and Medicine, the number of confirmed COVID-19 cases worldwide is more than 105.2 million. More than 2.29 million deaths have been recorded.
More to come.