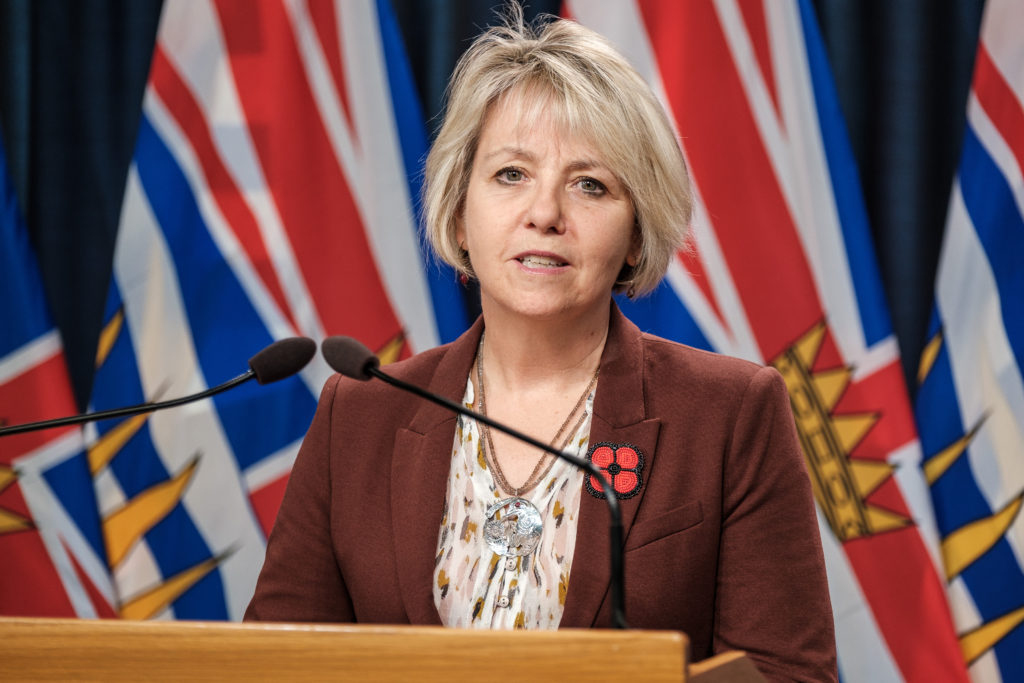 British Columbia is reporting 722 new cases of COVID-19 for the entire province with seven additional deaths in that span.
Of the 722 new cases, 20 are linked to the Island Health region.
There are currently 6,757 active cases in British Columbia, while 11,727 residents remain under active public health monitoring.
Dr. Bonnie Henry says that 445 are in hospital – a decrease of 12 since May 6 – with 157 people in critical care as a result of the virus (an increase of three).
Since Thursday's numbers, there have been 115 new cases of COVID-19 in the Vancouver Coastal Health region, 523 in the Fraser Health region, 20 in the Island Health region, 38 in the Interior Health region, 26 in the Northern Health region and no new cases of people who reside outside of Canada.
There were seven additional deaths related to the virus on Friday. This brings the provincial death total over the course of the pandemic to 1,602.
Also as of Friday, the total number of cases in British Columbia over the course of the pandemic has reached 134,341.
Health officials also said, to date, 2,042,442 doses of all three COVID-19 vaccines have been administered in the province, 99,461 of which are second doses.
"With over two million doses in the arms of people throughout the province, our COVID-19 immunization program has significant momentum, and more people are getting their vaccine every day," reads a joint statement from Dr. Henry and Health Minister Adrian Dix.
Currently, the government is booking vaccine appointments for anyone who is 49 years of age and older. The age-based eligibility is expected to expand over the coming days and the government says it will begin booking people aged 40 and older by early next week.
"To date, 45 per cent of those who are eligible have received at least one dose," reads the written statement. "For everyone who has received their vaccine, we thank you for doing your part. For those who will soon be eligible, we encourage you to join this vaccine effort when it is your turn."
British Columbians can register online for their vaccine at getvaccinated.gov.bc.ca
Island Health
According to the latest data provided by Island Health, there are currently 180 active cases on Vancouver Island.
Of the active cases, 84 are on southern Vancouver Island, 75 on central Vancouver Island and 21 on northern Vancouver Island.
Southern Vancouver Island includes the Greater Victoria region, Southern Gulf Islands and the Port Renfrew area.
Central Vancouver Island includes the Cowichan Valley, Duncan, Nanaimo, Parksville, Port Alberni and Tofino areas.
Northern Vancouver Island goes from the Comox Valley to Port Hardy but also includes surrounding areas like Alert Bay and Sointula.
Over the course of the pandemic, the Island Health region has reported 4,771 cases.