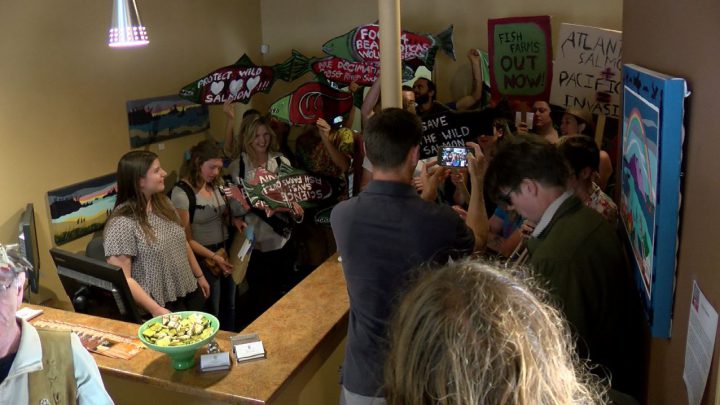 First Nations members and activists opposed to fish farms staged a sit-in at the B.C. minister of agriculture's office on Tuesday in Saanichton.
The protest at Lana Popham's office called for the provincial government to honour its election promise to remove open-pen fish farms. Many First Nations in the area have been protesting the use of fish farms for the last 30 years.
The sit-in lasted for about three hours and included drumming, videos from fish farms, songs and salmon art. The protestors carried signs, including some in the shape of fish.
The group said the sit-in is in solidarity with the protests at the Marine Harvest fish farms on Swanson and Midsummer islands. According to the group, open-pen Atlantic salmon fish farms located on the migratory routes of the Fraser River sockeye are spreading pathogens that are linked to the demise of the Sockeye run.
The group said the sit-in is the first of a series of actions to pressure the provincial and federal governments to recognize Indigenous sovereignty and jurisdiction, First Nations rights and title and remove all fish farms from areas where consent has not been given.