Matt Phillips is the man at the helm of Phillips Brewery. He is in charge of its wildly popular beers like Blue Buck, its tasting room and its backyard that has become home to some of the most anticipated outdoor concerts on Vancouver Island. Like all beer lovers, he enjoys the occasional pint at a local pub.
"Beer is such a social drink, it's nice to go out and try a beer at different places and it's a different experience everywhere you go," he told the MicCHEK Podcast. In a recent episode, Phillips laid out (in no particular order) his 10 favourite places to go for a beer in the capital city.
Here is Matt's list:
Garrick's Head/The Churchill – 1140 Government Street
"A classic in Bastion Square. They were and have been a real beer house for as long as I've lived in town. They have a really diverse line-up of beers and really support local breweries and they were one of my first accounts, so it has a special place in my heart. For me, sitting in the back in the old section of Garrick's Head is where I feel most comfortable, by the fire. To me, it's a special room".
Phillips Tasting Room – 2000 Government Street
"I put this down for our backyard because for me some of my favourite beer experiences in Victoria have been at concerts in the Phillips' backyard, some in the rain and some in the sun but all kind of with the community. They're pretty exciting nights for us."
Bard and Banker – 1022 Government Street
"Bard is such a classy room especially sitting by the fire when it's cold out, it's a really special place to be and a rich experience. I like to go straight to the back and sit by the fire places, unless there's a band playing."
Beagle Pub – 301 Cook Street
"Super classic spot and always has great lively action and fantastic patios. One of the byproducts of COVID is that we have all these patios now. They're so great and they've really changed the experience in the city and the Beagle is a great example.
Leopold's Tavern – 570 Yates Street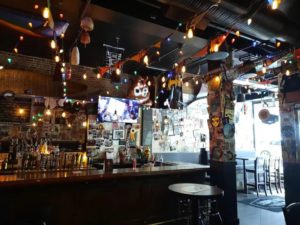 "Bit of a newer pub on Yates Street. It's great, it has a really low-key vibe to it. It just feels like a classic bar. Great food, great atmosphere, good drink list. It's walking distance to Phillips too so it's a great spot to head to if we need a change of pace. And the staff are awesome."
Spinnakers – 308 Catherine Street
"A blast from my past. I used to work there 20-odd years ago and it's really cool to go and see the continuity and see them still exploring with beer and doing a great job of finding ways to showcase food and beer pairings. As much as they are adventurous they're really rooted in history there. It's Canada's oldest brewpub and all of us brewers owe a debt of gratitude to that."
CRAFT – 450 Swift Street
"I'm putting this on my excited to see list because the setting is so awesome. Before Canoe Club closed it was such a great spot, the patio was amazing, the bones of the building are just epic and they've always brewed their own beer and done a great job with it. The guys with CRAFT we have a long history with, and they're amazing operators and we're excited to see how the renovations come along. I think it'll be a really wonderful spot."
The Drake – 517 Pandora Avenue
"Classic beer bar which is kind of crazy because it doesn't feel that old. They really curate an amazing draft list there. As a brewer we drink a lot of our own beer, and we get pretty nit-picky on it and that's an important part of the craft, but we love beer and it's really exciting to try new beers and the Drake brings in exciting stuff all the time. I spend more time looking at the beer list than I do actually drinking. It's a spectacular beer list."
Whistle Buoy Brewing – Market Square
"They're making great beers and have a fun vibe. The guys are awesome and they definitely deserve a shout-out for making drinking beer fun."
The Bent Mast – 512 Simcoe Street
"I used to live in James Bay and it used to be a frequent haunt. There is something really cool about converting an old house into a bar. It's a really intimate scenario."
Listen to this episode of MicCHEK here.
MicCHEK Roundtables are released every Friday and are available wherever you listen to podcasts.