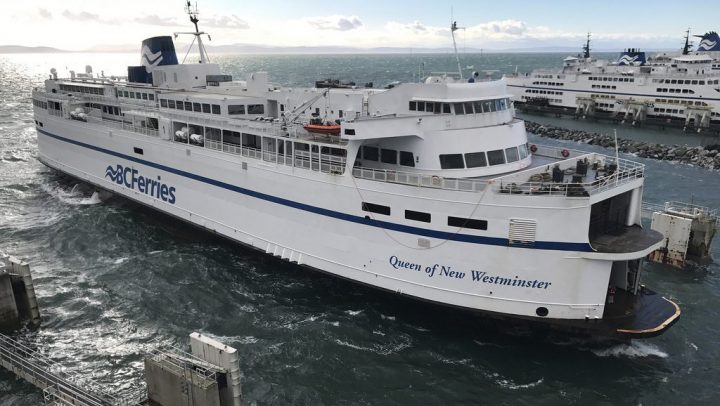 BC Ferries is planning to build five new ferries to replace four existing vessels and they want passengers to share what would make future trips better.
According to the company, the new ferries will add capacity to the Metro Vancouver – Vancouver Island routes and replace the Queen of New Westminster, Queen of Alberni, Queen of Coquitlam and Queen of Cowichan that currently run on those routes.
BC Ferries expects the new vessels to begin service in the middle of next year. The acquisition of the vessels is a capital expenditure that requires the approval of the BC Ferries Commissioner under Section 55 of the Coastal Ferry Act. Subject to a favourable decision, BC Ferries expects to award a contract to build these vessels next year.
Before the ferries are built, BC Ferries wants to get feedback on how to improve customer's experience on board, including improvements and services related to accessibility (e.g. hearing induction loops, removing barriers to customer access and travel, etc.), food and beverage options, type of service and seating options (e.g. a pre-order and pre-pay food app), design of children's play areas, enhancements to outdoor areas, seating types and new ideas, design of pet areas, enhancements for foot passengers and cyclists, new technology, lowering greenhouse gases and any other ideas.
"This is an exciting project and we invite our customers to join the conversation," Mark Collins, BC Ferries' president and CEO, said in a statement.
"There is still a lot to be decided as we work to keep fares affordable, reduce our environmental impact, plan for future flexibility and enhance the onboard experience for customers. We want to hear your thoughts on the project, and your ideas about how we can improve your experience when travelling with BC Ferries. This is an opportunity to get informed and provide feedback on the newest additions to our fleet as they are being designed."
BC Ferries said it will identify the operational needs around size and capacity, speed and maneuverability, space allotments and other technological requirements. It will be sharing information about the project to customers. The company is also looking at options to minimize underwater radiated noise and reduce environmental impact. According to BC Ferries, each new vessel is quieter than the one it replaces.
"One of the complexities of designing a new ferry is working within weight, space and cost restrictions," said Collins. "This means we need to carefully think through each aspect of the design."
Feedback received through the survey will be used as the vessels are designed. BC Ferries will also be holding stakeholder workshops and doing customer engagement sessions on board the
Metro Vancouver – Vancouver Island routes. The vessel design will then be shared with communities as the project progresses.
The survey can be filled out here. Between March 25 and April 7, there will also be outreach staff on the Swartz Bay- Tsawwassen, Horseshoe Bay-Departure Bay, Tsawwassen – Duke Point routes who will record passengers' thoughts about future trips.