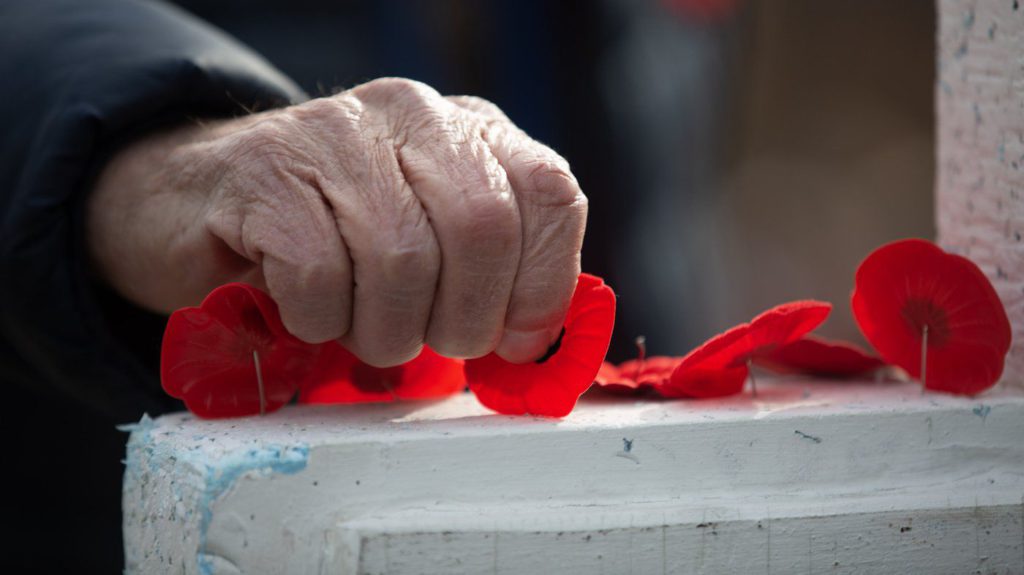 THE CANADIAN PRESS/Paul Daly
The stories of First and Second World War soldiers from Nanaimo are being shared via a video memorial project that is now playing at prominent locations across the Vancouver Island city, including Beban Park.
The video showcases soldiers who made the ultimate sacrifice, according to Vancouver Island University (VIU), which helped put the Nanaimo Remembers Project together back in 2018 for Remembrance Day.
"You get a deeper sense of what remembrance means," said Stephen Davies, director of VIU's Canadian Letters and Images Project, who applauds the video that he says brings to life the local soldiers who sacrificed their lives for our freedom.
Now it's being played again leading up to and on Nov. 11, 2023, to highlight more than 200 soldiers, whose names were obtained from the Dallas Square Cenotaph downtown. Local Indigenous soldiers' contributions are also highlighted in the video.
"The project shares details of each soldier's life, revealing the people behind those names on the cenotaph," said Davies in a news release.
SEE ALSO:
VIU says information about each soldier can include their name, rank and battalion, when they died and at what age, where they were buried, their occupation and connection to the Harbour City.
For example, Private William Armstrong Syer, a miner and resident of Franklyn Street, is one of the soldiers mentioned in the video, the university says. Syer was 34 years old when he died from wounds received in battle in August 1918, and he was buried in the Crouy British Cemetery in Somme, France.
VIU says the video was spearheaded by its strategic communications and brand marketing teams alongside the Canadian Letters and Images Project (CLIP) and Nanaimo Community Archives.
It's playing continuously until Nov. 11, 2023, on the large screen in the Welcome Centre in Building 300 at VIU's Nanaimo campus, as well as at several other locations on varying dates:
Beban Park and Oliver Woods Community Centre (Nov. 6 to 11)

Port Theatre

Nanaimo Museum (Nov. 1 to 10, museum is closed Nov. 5, 6 and 11)

Vancouver Island Regional Library: Nanaimo North branch

School District 68

Rogers TV (starting Nov. 5)
Watch the video below: