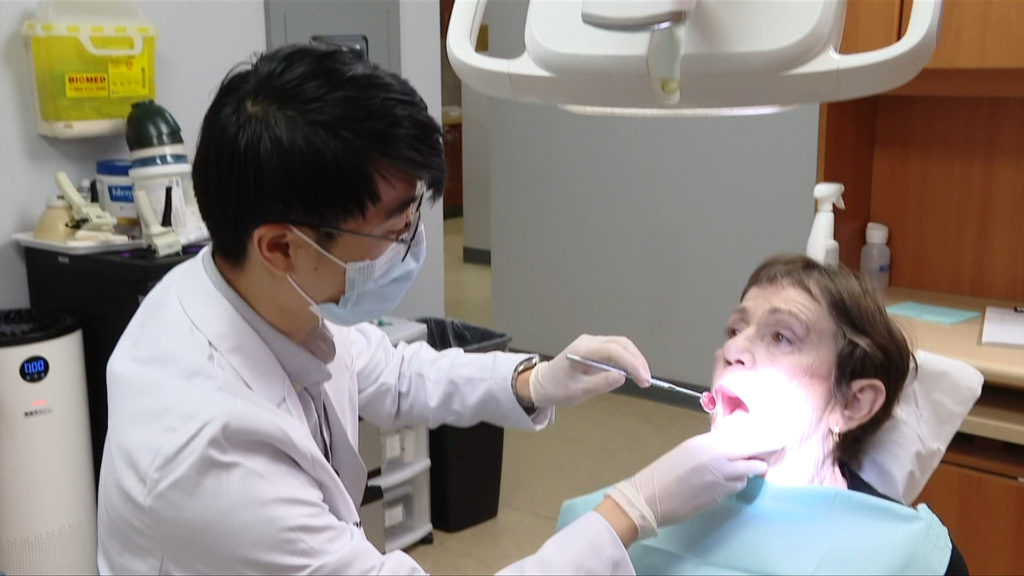 Elizabeth Device is getting a check-up at the Cool Aid Dental Clinic.
She's struggled with dental issues for years, lost several teeth, and had to have the remaining ones removed.
"Expense was the biggest thing," the senior says. "It cost me quite a bit of money just to get them out, the ones that were left, and then I was getting infections and I was sickly and I never smiled."
And that's had a big impact on Elizabeth's quality of life.
"I was so withdrawn and depressed," Elizabeth says. "I would be invited to things and I never went because I was too embarrassed because I had missing teeth in my front."
But thanks to the Cool Aid Dental Clinic, Elizabeth was able to get dentures six months ago.
"I have so much more confidence," Elizabeth says. "I'm not sick. I have no more infections in my mouth."
A denturist is at the clinic every Wednesday and demand for the service is high.
"On average, we do make about 120 to 150 units per year and that includes new dentures, relines and repairs," explains denturist Daniel Seo.
Dentures are just one of the services the Cool Aid Dental Clinic — which has been in operation since 1972 and helps about 5,000 patients a year — provides for low-income people who can't afford to pay regular rates.
"We're the only clinic like this on the Island, really, so people are travelling from Salt Spring, they're travelling from Nanaimo, there are so many people and we are always booking so far in advance," says Sara Labarre, a certified dental assistant at the Cool Aid Dental Clinic.
That's why Cool Aid's fundraising campaign, Everyone Deserves to Smile, is underway this month.
All donations will be matched up to $30,000 by donors Jim Thomson and Kathleen Brandsma, so more people can be helped.
"For a lot of them, it's just confidence and like the smile that it gives them again because not having that smile can cause, you know, a lot of anxiety," Sara says.
"I find that the work I do is very rewarding for myself as I restore a patient's smile, confidence and the ability the chew again," Daniel adds.
For Elizabeth, who says she would be paying for her dentures for the rest of her life if she hadn't received a grant, it's been life-changing.
"I was going to have to borrow the money, and of course, I didn't have anyone to borrow it from, so it was either I get a payday loan or be more in debt," she says. "I couldn't be happier with the way things turned out!"
Donations to the fundraising campaign can be made online or by calling 250-383-1977.