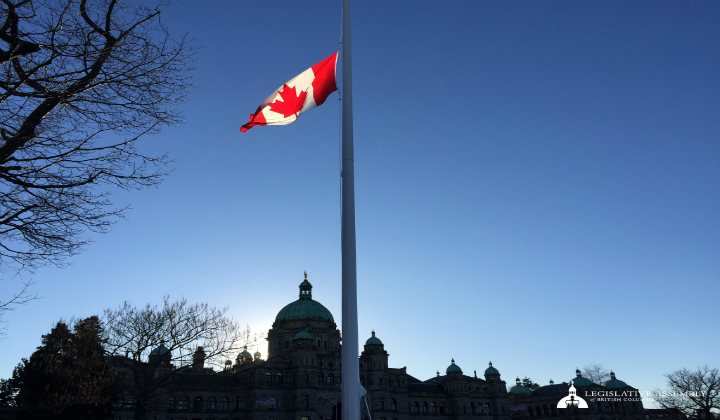 A vigil is being organized in Victoria Friday afternoon to honour the victims of the New Zealand mosque attacks and to "stand against Islamophobia, and white supremacy."
The vigil will start at 3 p.m. at Centennial Square, next to Victoria City Hall.
On the "Vigil for New Zealand Mosque Shooting" event page on Facebook, organizers say, "This act of white supremacy and discrimination is growing, and it is crucial that we all take a stance to act against it."
Forty-nine Muslims at Friday prayers were killed and 48 others were injured following what police in Christchurch, New Zealand is calling a carefully planned racist attack on two mosques.
Officials across Canada are offering condolences following the shootings.
"The City of Victoria stands in solidarity with our Muslim community against racism, Islamophobia and discrimination, and for diversity, inclusion and love," Victoria Mayor Lisa Helps said in a statement Friday.
In light of the horrible mosque shootings in New Zealand, I stand in solidarity with our Muslim community against racism, Islamophobia and discrimination and for #diversity, #inclusion and #love.

— Lisa Helps – Victoria Mayor (@lisahelps) March 15, 2019
Premier John Horgan said B.C. sends "deepest condolences to people who have lost their loved ones."
"To murder in a place of worship is a deep violation. People around the world feel less safe in their communities today, and that is something we cannot accept. The rise of hate and extremist violence around the world is disturbing. Islamophobia and white supremacy are being spread by cowardly people for political gains and that cannot be tolerated," Horgan said in a statement.
The Canadian flag is being flown at half-mast at Victoria City Hall and the B.C. Legislature in memory of the Christchurch victims.
"We often feel powerless in moments like these, but we must stand up. Together, we have to fight for a better world. Only with love can we stop hate. Only with compassion can we understand that we are all the same. Our lives are made better every day by the inclusive, multicultural province we are so lucky to live in. We cannot let those who seek to spread hatred take that from us.To our friends in the Muslim community, we stand with you. Today, and every day, we stand against violence and hatred in all its forms and fight for a more peaceful world."
Canadian flag at #BCLeg fies at half-mast today in memory of all victims of the #NewZealandShooting; our thoughts and condolences to all #Muslim communities #TheyAreUs pic.twitter.com/r7GgBrLTDD

— BC Legislature (@BCLegislature) March 15, 2019
My heart breaks for those affected by the deadly Islamophobic attack in Christchurch, NZ.
Today is Jumu'ah, the day of prayer in the Muslim community. I offer my support & deepest condolences as people gather together to worship & mourn, & recommit to standing against all hate.

— John Horgan (@jjhorgan) March 15, 2019
Prime Minister Justin Trudeau says Canada condemns the attacks and encouraged Canadians to confront Islamophobia and work to create a world in which all people, regardless of their faith, can feel safe and secure.
Attacking people during prayers is absolutely appalling, and Canada strongly condemns today's shootings in New Zealand. Our thoughts and hearts go out to the victims and their families, and we join New Zealanders and Muslim communities around the world in grieving.

— Justin Trudeau (@JustinTrudeau) March 15, 2019
A 28-year-old white Australian man who claimed responsibility for the shootings left a 74-page anti-immigrant manifesto stating he is a racist and giving his reasoning for the attack.
He wore a helmet camera and live-streamed the massacre on social media.
The gunman says he chose New Zealand to show that even the most remote parts of the world were not free of "mass immigration."
Two other men and a woman were also arrested, although one has reportedly been released from custody.
The head of the Quebec City Islamic Cultural Centre, where a shooting claimed the lives of six people two years ago, says there is a feeling of "indescribable pain" in his community.
Police in many cities across Canada are stepping up patrols around places of worship and speaking with local Muslim communities about their security concerns.
Files from The Canadian Press.