Members of the Victoria Peace Coalition gathered outside the Visitor Centre on Wharf Street Saturday afternoon, opposing Ottawa's plan to buy F-35 strike fighters.
In December, the Department of National Defence received approval to spend $7 billion on 16 F-35 fighter jets, as part of a process to buy 88 jets to replace aging CF-18s in the coming years, according to The Canadian Press.
While that works out to about $450 million per plane, which is about four times more than the publicly reported cost of the aircraft, the total includes weapons and spare parts, new facilities to house and maintain the fighter jets and upgrades to the military's computer networks.
Cory Greenlees with the coalition told CHEK News that the group is saying no to war and the economic and social upheaval caused by war.
"We're saying that the money, the billions of dollars that these jets will cost, should be used for human needs for education, to address the climate emergency, to address the toxic drug emergency. There are so many things that we need to spend money on, not militarization," said Greenlees.
A group called the No Fighter Jets Coalition is also holding weekend rallies to oppose Ottawa's plans to buy F-35 jets, with some members unfurling a "Defund Warplanes" banner on Parliament Hill on Saturday.
Activists are rallying across the country until Sunday, asking Ottawa to cancel the deal, arguing the jets lead to militarization and harm the environment.
Canada's defence policy says the F-35s are necessary to counter evolving threats such as surface-to-air missiles and to co-operate with allies.
With files from The Canadian Press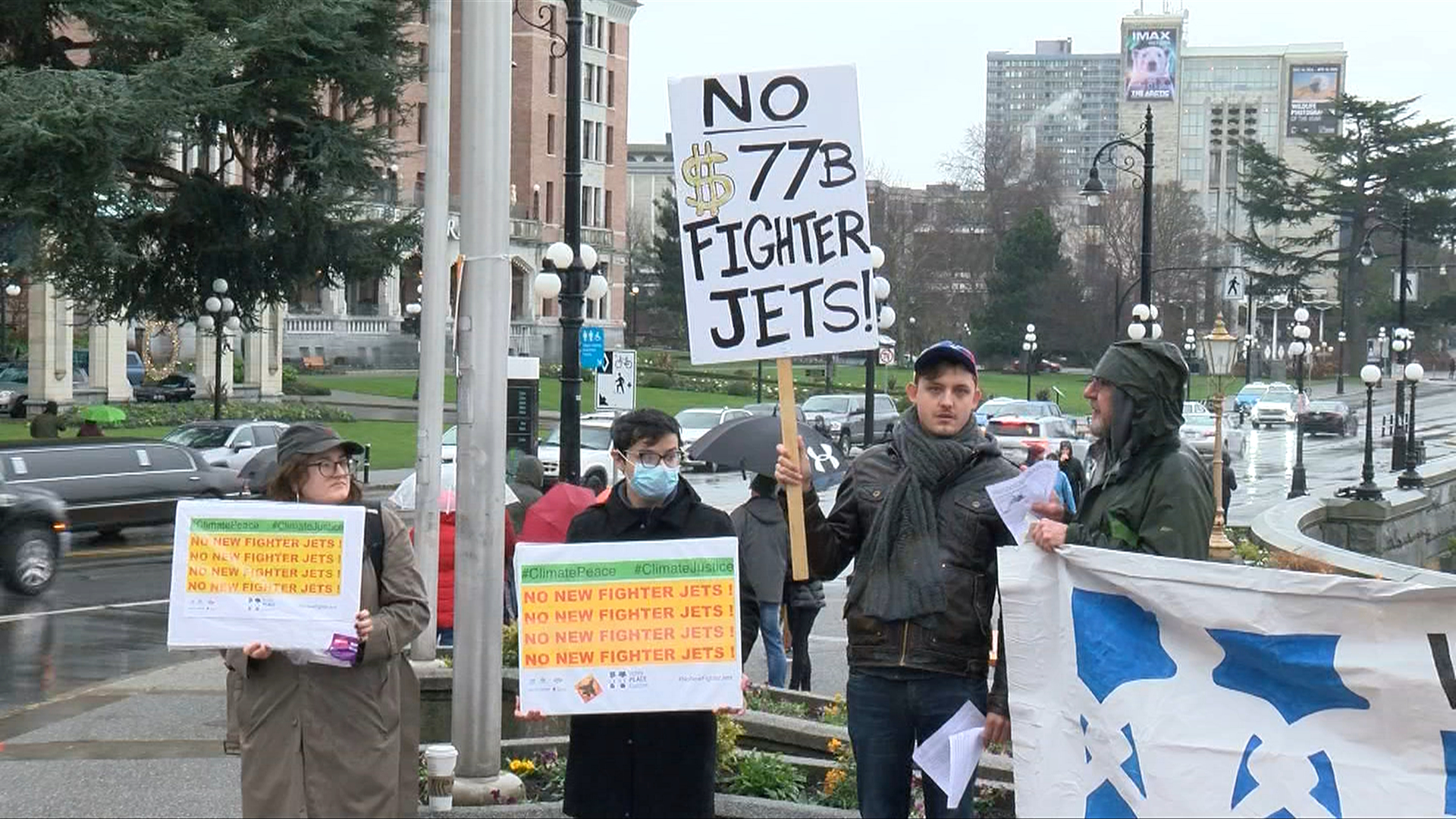 The No Fighter Jets coalition was on Parliament Hill this afternoon to say #DefundWarplanes. Media reports say the @JustinTrudeau government will spend $7 billion on a first block of 16 F-35 fighter jets (and buy 72 more over the next few years). #NoFighterJets #DropTheF35Deal pic.twitter.com/dASfitDxsU

— Peace Brigades International – Canada (@PBIcanada) January 7, 2023