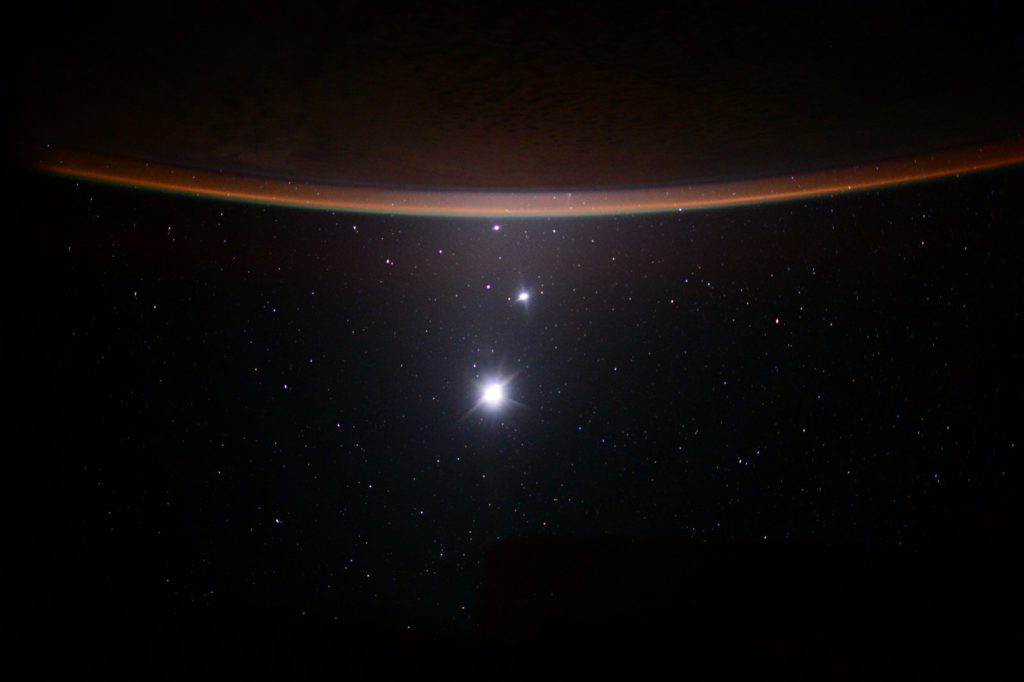 You may have already spotted what appear to be two unusually bright stars in Vancouver Island's night sky, but tonight marks the crescendo of a celestial display of the planetary sort.
Just after the sun sets at around 5:57 p.m. Wednesday, Jupiter and Venus will be coming together to form a conjunction where it'll seem like the two planets have come together as one.
The event, while not considered rare, only occurs roughly every eight years.
"These conjunctions happen quite often," said Dr. Karun Thanjavur, who runs the observatory at the University of Victoria. "The inner planets, like Mars, Earth, orbit the sun every year. For Jupiter, it takes about 12. However, if you draw a line from the sun through Venus, it will line up with Jupiter every three to four months."
He says what makes this special is Earth is finally in the right place for the union to be in our view, and while it looks like the planets might be about to collide — there's no need to worry.
"To us, it'll appear they're very close to each other, even though in space they're separated by millions of kilometres. There's no way they can 'kiss' each other even though it appears that they're approaching each other very closely," said Thanjavur.
He says tonight it'll probably be too cloudy for those on the Island to be able to catch the conjunction, but if there is a break in the sky your best bet is to keep an eye on the sunset.
"The conjunction happens towards the west, around 6 or so in the evening. They'll set soon after sunset, both planets will go below the horizon, so look towards the setting sun in the western sky."
Thanjavur says if you miss it tonight you aren't completely out of luck. Thankfully these events move slowly, and once they come together they'll just as slowly come apart — and that means planet-gazers will get to watch that too.
"Tomorrow's forecast is for clear skies, so tomorrow evening they'll still appear, maybe not as close [but] they'll be really spectacular to look at."
He invites the public to come down to UVic on Wednesday nights when the observatory holds its open house.
He says the telescopes on campus can be used for myriad purposes, from looking at deep sky objects to nearby planets.
"The two telescopes we primarily use are called Celestron telescopes, eight inches in diameter and excellent for looking at planets and nearby objects. And then we have a bigger, 32-inch in diametre, one that's excellent for looking at deep sky objects. That's the DFM telescope," explained Thanjavur. "It's for looking at other galaxies, stars, clusters and of course, planets."
RELATED: 'Can't look away': Northern lights shine bright over Vancouver Island Sunday