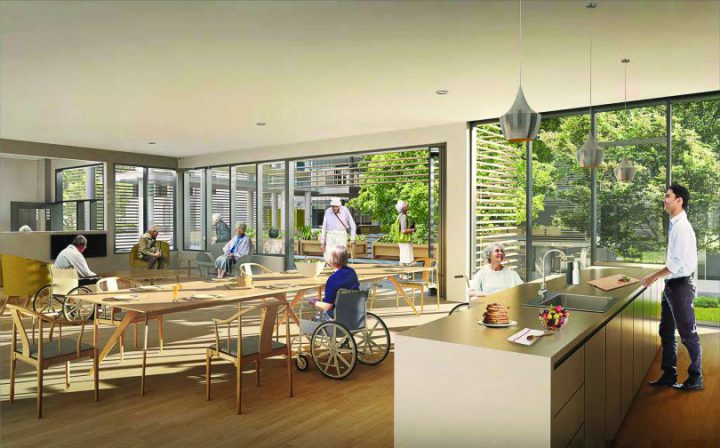 The Providence Residential and Community Care (PRCC) Services Society said it plans to build the first dementia village on Vancouver Island in the Comox Valley.
On Wednesday, the provincial government announced that PRCC would take ownership of The Views at St. Joseph's in Comox on April 1, 2019, and work with Island Health on a care redevelopment plan. The B.C. government also announced a new long-term care facility in the Comox Valley to be owned and built by Golden Life Management Corp.
The facility, expected to open in 2020, will have 120 residential care beds and six hospice beds, four of which are currently in use at The Views in St. Joseph's.
The Views, a non-profit Catholic health care organization like Providence, was previously owned and operated by the Bishop of Victoria.
PRCC said both announcements means it is now one step closer to creating a dementia village in Comox.
According to the PRCC, the village will be constructed at the site of St. Joseph's Hospital site. The Views, which is at the site now, currently has 117 beds for its care home, as well as four hospice beds.
"Providence Residential and Community Care is grateful to Island Health and the Ministry of Health for giving us additional beds at St. Joseph's Hospital, allowing us capacity to create a dementia village. With this expansion to Vancouver Island, PRCC has taken the next step to fulfilling its mandate to become a leader in seniors care, which other health care organizations and jurisdictions may eventually emulate," Jo-Ann Tait, Providence corporate director, seniors care and palliative services, said in a statement.
PRCC said the Dutch model for seniors care – known as the dementia village in De Hogeweyk, Netherlands – will be used as a model for the village. The village will provide care and treatment for people with dementia with housing and care options for seniors, as well as support for spouses and partners. The plan is to have the services on a single campus with independent living, long-term care and specialized dementia care and neighbourhoods.
PRCC said the village will have many aspects of the Dutch model including smaller households for residents who share a common bond with each other and having the entire perimeter be secured using creative structure and technology to residents can go outside. The plan has destinations like a grocery store, pub and music room.
"The Comox dementia village is only one component of an entire master site plan with specifics to be determined going forward. PRCC will identify those needs through engagement, consultation, and working closely with stakeholders, partners and the community," the PRCC said in a statement.