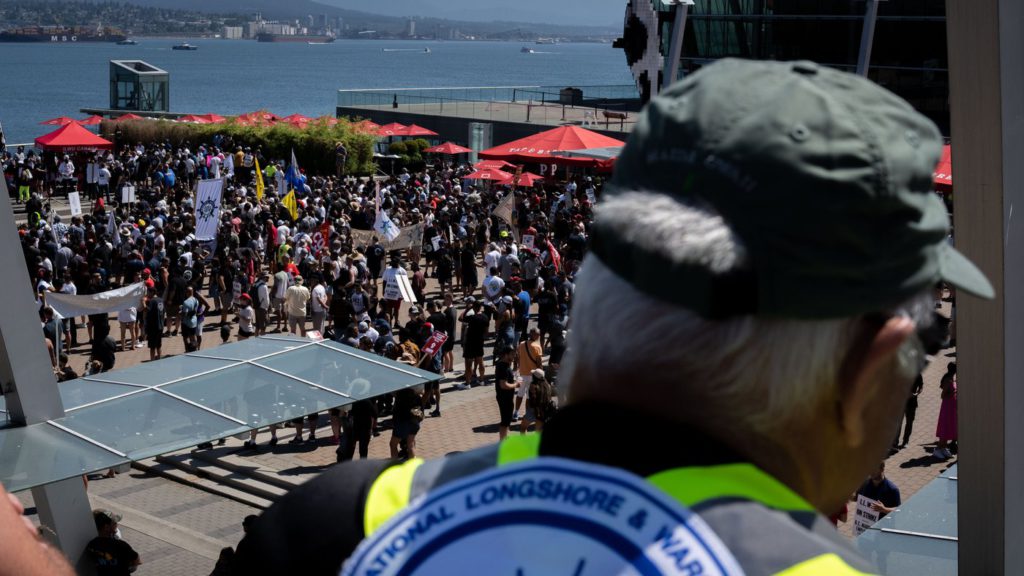 THE CANADIAN PRESS/Ethan Cairns
Hundreds of people gathered in Vancouver today for a rally to support striking British Columbia port workers as their job action stretches into its second week.
Representatives from labour groups as far away as Australia and New Zealand spoke in support of the strikers, who continue to push for improved wages amid the growing cost of living and protection from what they see as an overuse of contractors for maintenance work.
About 7,400 members of the International Longshore and Warehouse Union Canada employed at more than 30 B.C. ports have been on strike since Canada Day.
ILWU Canada vice president Pat Bolen told the crowd the collective agreement lays out "very clearly" that anything to do with the movement of cargo on docks or ships is the jurisdiction of the union, but says those powers have eroded over several years as more contractors with "no skin in the game" have been brought in.
Bolen says that while the union can't prevent automation from being used at the ports, it should fall to union members to make repairs if robots break.
The BC Maritime Employers Association has accused the union of trying to "aggressively expand" its control of maintenance duties far beyond what the association says has been established for decades.
This report by The Canadian Press was first published July 9, 2023