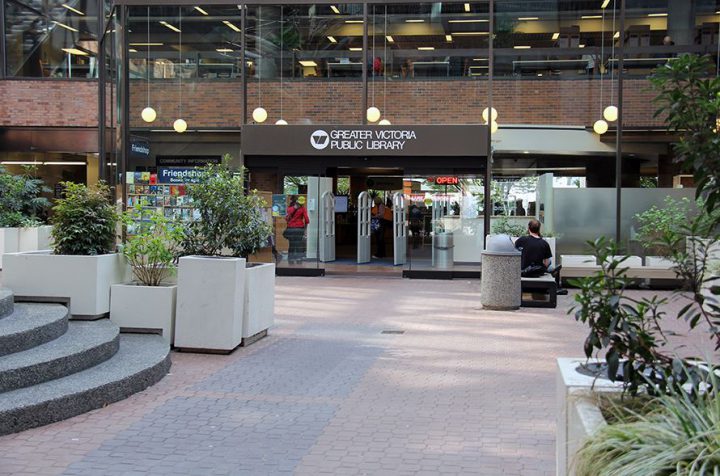 People in Greater Victoria will soon be able to borrow physical books again, more than three months after libraries closed due to COVID-19.
All 12 branches of the Greater Victoria Public Library (GVPL) closed on March 16 to help limit the spread of COVID-19.
On June 30, the Central Branch and Langford Heritage Branch will partially reopen to allow people to borrow physical library materials.
Library users can place a hold on any item online at https://www.gvpl.ca/and then pick it up at one of the two branches. There will also be a limited number of items people can borrow at those locations.
The Central Branch will be open Monday through Saturday, from 11 a.m. to 12 p.m. specifically for patrons who self-identify as elderly or immuno-compromised; all patrons are then welcome between 12 p.m. and 4 p.m.
Library materials can be returned in the exterior drop box from 9 a.m. Monday through to 5 p.m. Saturday. The interior drop box will be open from 11 a.m. to 4 p.m. Monday to Saturday.
At the Langford Heritage Branch, the Library Vending Machine at the Langford Heritage Branch will be available with a selection of movies, books, and video games, Monday through Friday from 9 a.m. to 5 p.m. and on Saturday from 9 a.m. to 4 p.m. Materials can be returned at this location, using the automated return machine, during the same hours.
And automated return machines at sxʷeŋxʷəŋ təŋəxʷ James Bay and the Emily Carr Branch will be open to accept the return of library material from 9 a.m. Monday through to 5 p.m. Saturday.
The GVPL says in the next incremental phase of the reopening plans, three additional branches will be open in July for the return of library material, to pick up material on hold and to browse a small collection of material that patrons can borrow. These locations will be open five hours each day, Monday to Saturday: Juan de Fuca, Saanich Centennial and Central Saanich (not necessarily in this order).
In August, the Oak Bay, sxʷeŋxʷəŋ təŋəxʷ James Bay and Bruce Hutchison branches will offer those same services described above, five hours each day, Monday through Saturday. The remaining GVPL branches—Goudy, Esquimalt, Nellie McClung, Langford Heritage and Emily Carr—are being assessed for viable service options.
GVPL will provide two weeks' notice before service begins at each location; details will be available at gvpl.ca.
Elsewhere, Vancouver Regional Island Library branches are still closed. However, the library has started takeout service at some branches.
To use the takeout service, people can use the online catalogue to place holds. Staff will collect items, contact the person to arrange a time, and the items will be placed at the pick-up site.
At this time, materials will only be available in the branch where they are housed.
To see where takeout service is being offered, visit https://virl.bc.ca/take-out-status/.