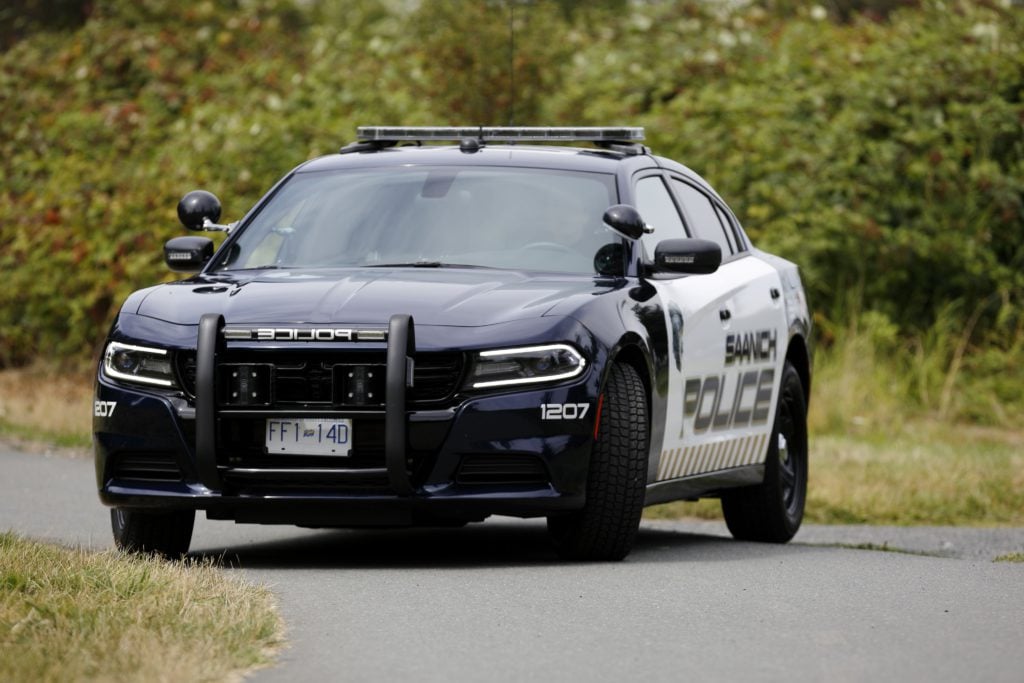 A man wanted following a string of armed robberies was arrested at gunpoint Tuesday.
According to a Saanich Police Department press release, officers with the Victoria Police Department arrested an unidentified male suspect wanted in connection with two robberies in Saanich on Tuesday morning while committing a similar act in Victoria.
Saanich PD say that at around 5 a.m. Monday, the man robbed a convenience store in the 3200-block of Douglas Street after pulling out a knife and demanding money from the clerk. Although the suspect did not physically injure the clerk, he was able to leave the store with an undisclosed amount of money and was last seen walking eastbound toward Blanshard Street.
Later the same day, at around 6 p.m., the same man walked into a restaurant located in the 3400-block of Douglas Street, near Uptown, pulled out a knife and demanded money, according to Saanich PD, who say the man was able to leave the restaurant with an undisclosed amount of cash.
Then on Tuesday, VicPD officers were called to the 700-block of Bay Street shortly before 10:30 a.m. after learning that a man with a knife allegedly robbed a business.
According to a separate press release issued by the Victoria Police Department, the suspect had entered a staff-only area of the store, pulled out a knife and demanded cash. They say staff handed over the money without incident and the man fled the scene.
However, a few minutes later, patrol officers spotted the suspect in the 2500-block of Wark Street and arrested him at gunpoint. Both a knife and cash were recovered and VicPD say the suspect has a "close resemblance to a suspect wanted in similar incidents in Saanich."
Const. Markus Anastasiades, media spokesperson for the Saanich Police Department, said in a press release that while the department is pleased the man was arrested, the thefts serve as a reminder to businesses.
"We feel this is a good reminder for business owners to talk to their staff on ways to be safe if faced with a similar situation. These robberies have not resulted in physical injury, in large part due to staff having complied with the demands of the suspect," he said. "These incidents, with the level and threat of violence involved, can be very emotionally traumatic for all of those involved and support should be offered and provided as needed."
The man remains in police custody and is facing charges of robbery and possession of a weapon for a dangerous purpose.
Both departments say their officers will be working together to share information as needed in order to support their investigations.