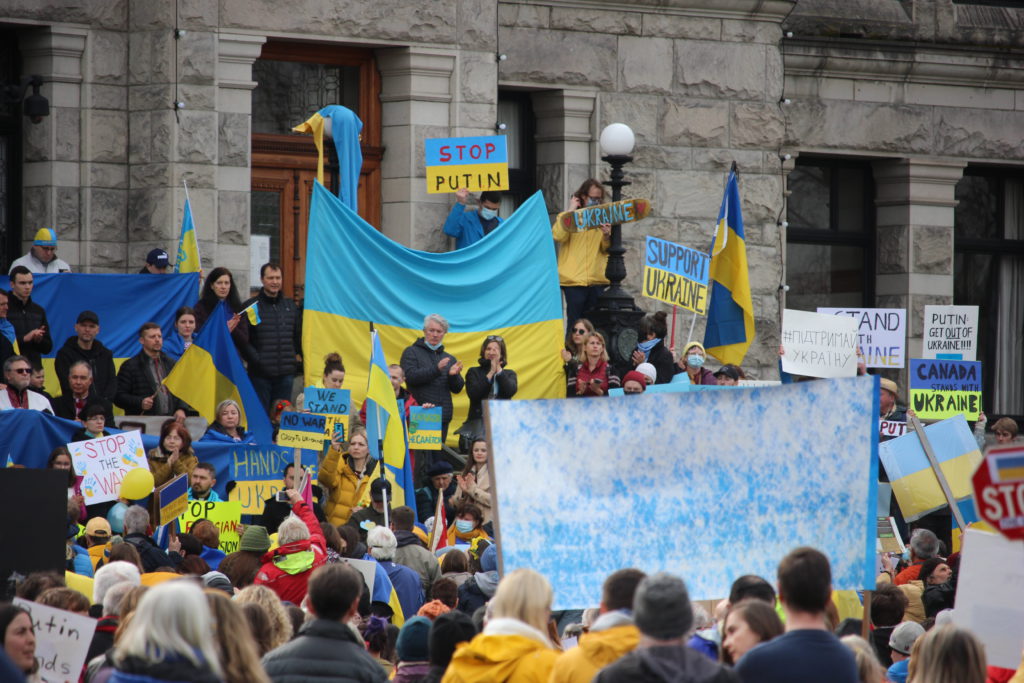 For the third weekend in a row, a Stand with Ukraine street rally will take place in Victoria on Sunday afternoon.
Beginning at 12:30 p.m., supporters will come together on the front steps and lawn of B.C.'s Legislature in an effort to show support for those living here with strong ties to relatives in Ukraine.
People are welcome to join and participants are encouraged to bring flags and signs.
Event organizers say that the gathering will begin with a "Peace and Prayer Ceremony" led by the Revd Yuriy Sakyuk (from Ukraine) and the Revd Ansley Tucker (Dean of Christ Church Cathedral) as well as members from the Songhees First Nation.
Both the Canadian and Ukrainian anthems will be sung at the event, note event planners.
Organizers add that local choirs, musicians and performers will be presenting during the event as well. Performers will include Luna Ukrainian Ensemble, The Gettin' Higher Choir, The Raging Grannies, the Saanich International Folk Dancers, along with a variety of other artists.
Donations will be collected by volunteers from the Ukrainian community with proceeds going to the Ukrainian Canadian Congress.
READ MORE: Vancouver Islanders are doing what they can to help the people of Ukraine
Sunday's planned street rally comes a week after thousands gathered along Douglas Street to show support for Ukraine amid the Russian invasion.
At last week's rally, chants, anthems and songs echoed across the lawn and speeches were made by event organizers to raise awareness of the ongoing situation.
"To see the support is absolutely fantastic," said Todd Rayner last weekend, a supporter with family living in Ukraine. "I think it's made a big difference."
Rayner was one of many in the crowd wearing blue and yellow while waiving a large Ukrainian flag as cars honked in support of the Ukrainian cause.