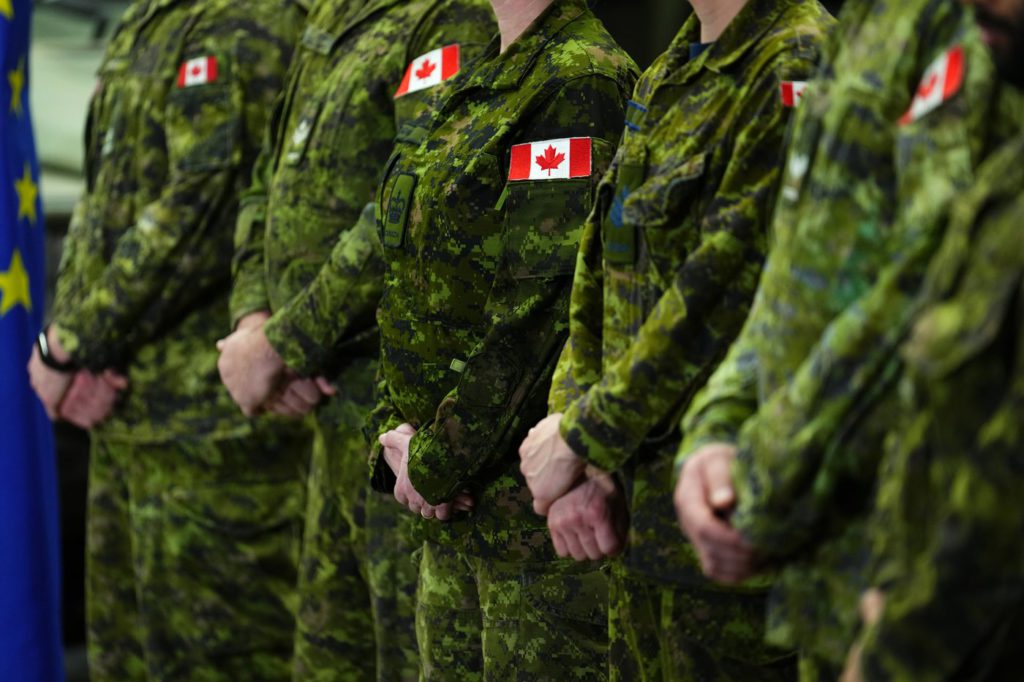 THE CANADIAN PRESS/Sean Kilpatrick
The military's chaplain-general says morale among troops is the lowest it's been in recent memory as many soldiers struggle with the cost of living.
In a briefing note sent to the chief of the defence staff, Gen. Wayne Eyre, chaplains say more Armed Forces members have been asking for help to make ends meet.
The chaplains note that they expect donations to Together We Stand, a non-profit that supports military families, to double this year. However, they say that is a short-term solution.
Some soldiers have said they're considering releasing from the military to avoid postings in certain locations.
Recent changes to the military's housing allowance have created new challenges for some. The Armed Forces announced in March that the new allowance will be based on salary, rather than where a soldier is posted.
The new program is available to an estimated 28,000 soldiers, but around 7,700 members would become ineligible and thousands of others would see their monthly payments reduced. Officials said that would result in a savings of $30 million a year.
In August, the military decided to phase out the old housing benefit gradually, to help thousands of members who were set to lose the payments.
Troops who would have seen their housing benefit decrease under the new program will continue to receive some payments until July 2026.
Still, the memo said the high cost of housing is a concern for many.
"Of special note are those members who made financial commitments in 2022 at the height of the housing market, or after receiving posting instructions in early 2023: some are now facing significant challenges to meet their financial obligations or to find appropriate housing," the note said.
Staff shortages at many bases and wings have led to "ever-present" tensions and conflicts in the workplace, in particular in places where there are different rules for military and civilian staff about working from home.
"In understaffed environments where normal operations must be maintained, reconstitution is basically being looked upon now as just another word, rather than as something that will revitalize the CAF mission and make a real difference in the professional lives of members," the memo said.
It also said a new performance evaluation process was experienced very negatively, with many saying the system was prone to glitches and has taken too long to implement. The system has "strained relationships with subordinates" and left people feeling like their work is not appreciated at a time when they're taking on more duties because of short-staffing.
On a positive note, the memo notes that some members say their workplace "appears to be getting psychologically safer" and they can communicate issues with their chains of command.
Members' ability to take additional time off for religious observances received support.
There has also been positive feedback, especially from female members, about dress code changes that allow people to better express their individuality.
But the chaplains also say the new dress code is receiving criticism from some members who feel it "may be eroding a sense of common mission, identity and team cohesion."
"The pace and extent of change within the CAF impacts many areas of military life concurrently, including benefits, evaluation and culture. Though unintended, these changes, concurrent with CAF efforts to reconstitute the force, has resulted in many CAF leaders and members feeling more undervalued and underappreciated than at any point in recent memory," the memo concluded.
The briefing note was sent to Eyre last month. It was based on information gathered by chaplains across the Canadian Armed Forces in the first six months of the year.
Eyre was not made available for an interview and his office did not respond to a list of questions sent on Friday.
In a written statement, a spokesperson for the Defence Department said there has been a great deal of change within the Armed Forces in the last few years and "it is not surprising there is some angst over what these changes mean" for members.
In response to questions about why CAF members are relying on donations, the department pointed out that many members were granted raises this year.
"The government of Canada recognizes and appreciates the outstanding contributions made by the Canadian Armed Forces and their families, and is committed to fairly compensating CAF members for their service," the statement said.
This report by The Canadian Press was first published Oct. 10, 2023.