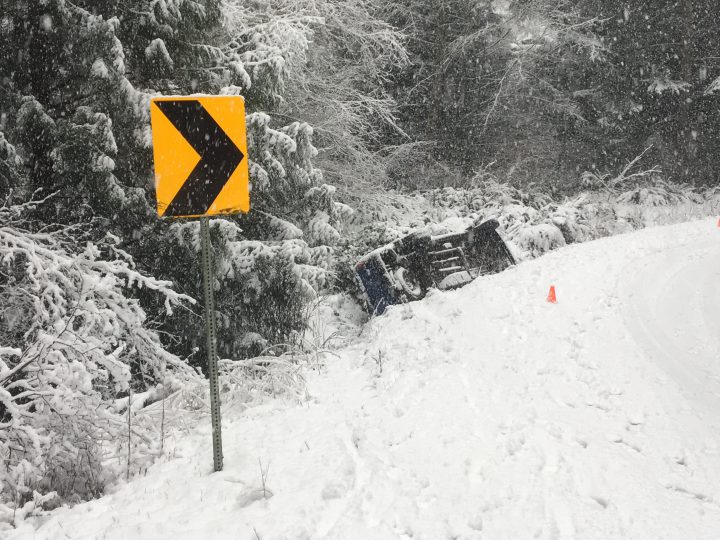 A snowfall warning for Greater Victoria, the southern Gulf Islands, east Vancouver Island, west Vancouver Island and inland Vancouver Island ended Friday afternoon after a winter storm dumped snow over the regions.
However, Greater Victoria is still under a wind warning along with the southern Gulf Islands. Environment Canada said strong outflow winds gusting up to 90 km/h will develop Friday evening over the Fraser Valley, southeastern Metro Vancouver, Greater Victoria and the southern Gulf Islands. Any snow falling during this period may lead to reduced visibilities.
The strong winds are expected to persist on Saturday. Environment Canada said damage to buildings, such as to roof shingles and windows, may occur. Loose objects may be tossed by the wind and cause injury or damage. These bands are expected to remain stationary through the evening before easing. Up to 10 centimetres of localized accumulation and near white-out conditions are possible.
And on Friday evening, a snow squall warning was issued for Nanoose Bay to Fanny Bay as cold Arctic air streams over the Strait of Georgia. Environment Canada said an intense band of snow has developed near Buckley Bay and Nanoose Bay.
The snow led to multiple crashes across Vancouver Island, particularly in Sooke. Sooke RCMP said they responded to multiple collisions and discovered very few vehicles had winter tires.
There were many vehicles in the ditch along Gillespie Road, including one rollover.
There were also minor crashes along the Malahat and in Nanaimo, Langford and Saanich.
B.C.'s Ministry of Transportation and Infrastructure was reminding drivers to drive with caution or stay home if they were not prepared. They added that certain areas require winter tires, including the Malahat and Highways 4, 14, and 28. There were also winter tire checkpoints for vehicles going north on the Malahat and Bamberton Hill going south.
If you're not prepared, PLEASE DON'T DRIVE. For your safety and others, please make sure you have winter tires, follow chain up regulations and drive to conditions. It's getting slippery out there! #malahat #yyjtraffic pic.twitter.com/zuDaOd2dgY

— BC Transportation (@TranBC) February 8, 2019
And more than 2,300 people were without power Friday afternoon after a car crashed into a hydro pole at the Savannah Avenue and Lodge Avenue intersection, according to B.C. Hydro and Saanich police. The crash also took out the traffic lights at the intersection.
Snowfall totals are not in but Greater Victoria was supposed to receive between two and five centimetres of snow today, with up to 10 cm predicted in inland areas including the Malahat. Snowfall warnings were in place for east Vancouver Island, from Duncan to Campbell River, west and inland Vancouver Island.
With files from The Times Colonist