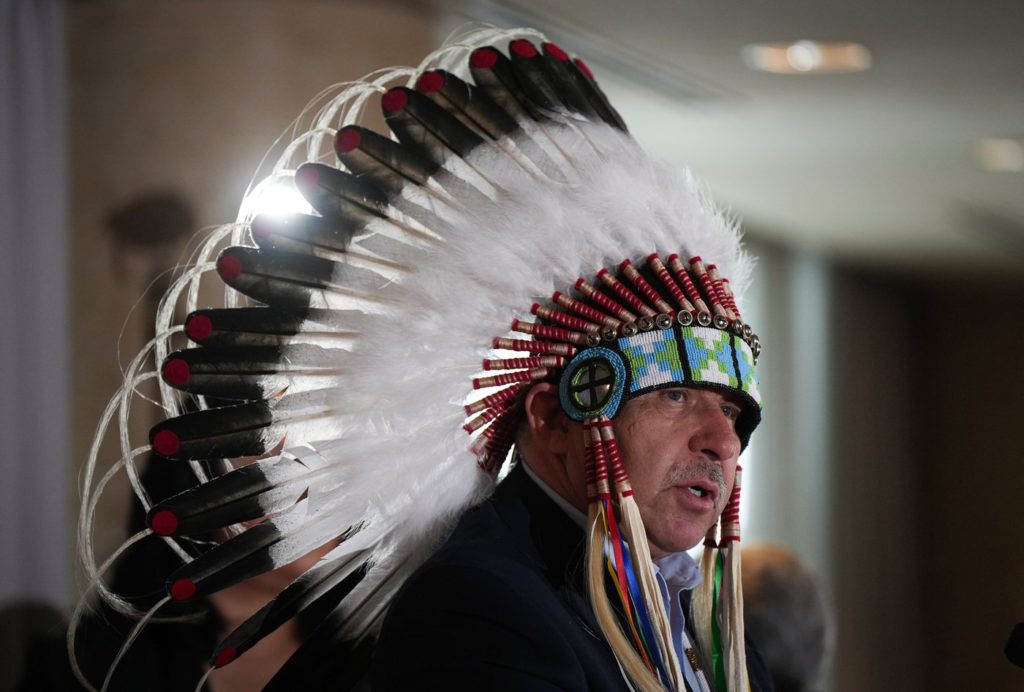 THE CANADIAN PRESS/Darryl Dyck
Leaders of a Saskatchewan First Nation say historic Canadian governments worked hard to eliminate their culture with colonial policies, now it needs to work even harder to restore it.
Chief Clinton Key and councillors from the Key First Nation say a big step in mending their community is reform of the child welfare system.
Coun. Solomon Reece says Indigenous children in government care across the country end up suffering in provincial welfare systems, cut off from their families, communities and culture.
Reece says the First Nation is hopeful that provincial governments in B.C. and elsewhere will work "proactively" to draft a new law addressing their litany of concerns.
Reece says the nation is particularly focused on self-governance legislation in B.C. that doesn't address the needs of "extraprovincial" First Nations that have members spread across the country.
The nation says it chose to start consultations in Vancouver to honour Noelle O'Soup, a 13-year-old member of its nation who disappeared from a B.C. group home in 2021 and whose remains were found in the city nearly a year later.
Reece says collaboration between its First Nation and provincial governments is paramount to reforming a system that has seen many Indigenous children die in care, while leaving families and their communities with "no answers."
Key told a news conference on Tuesday that the nation is proud to be taking its first steps to control its own child and welfare services.
"We plan to develop a new law that upholds the ancient human right to care for and raise our children to be reflections of who we are, of our ancestors and our teachings."
It comes as the Key First Nation sent a letter to Premier David Eby expressing "heartbreak and outrage" at the loss of O'Soup while she was in B.C.'s child welfare system.
The letter outlined the nation's grave concerns about the B.C. government's inaction on the teen's disappearance and death, and it calls on the government to address systemic failures that compromised the girl's safety and her family's access to information.
"Our community is devastated by the tragic death of Noelle and outraged at the inaction of police and the (Ministry of Children and Family Development) inadequately investigating her death and bringing closure to her case," Key told the news conference. "Her family deserves closure."
The girl's body was found inside a Downtown Eastside rooming house and while the tenant of the room was found dead inside in February of 2021, officers initially missed the remains of O'Soup and another woman, who were also in the room.
The letter to Eby says the disparity between outcomes for Indigenous and non-Indigenous children in government care needs to be identified and changed.
The federal government changed the law in 2020, allowing Indigenous communities to exercise jurisdiction over child and family services while Ottawa established national minimum standards.
Indigenous children are disproportionately overrepresented in B.C.'s child and family services system, comprising less than 10 per cent of the child population yet representing 68 per cent of the children in care.
"Too many of our families have been torn apart by a system that does not meet their best interests," Key said. "We believe that there is another way."
Key said the First Nation can't fix the system alone, and co-operation with provincial governments is paramount to moving forward with a new self-governing system that doesn't see Indigenous kids put into non-Indigenous care.
The letter says there was a concerning lack of transparency from law enforcement and the BC Coroners Service, leaving O'Soup's family and the nation with many unanswered questions.
"As chief and council, we are taking our first steps to assert our natural jurisdiction of our children," the letter says. "We no longer have faith in (the ability of governments across Canada) to protect our children, who are our future."
This report by The Canadian Press was first published March 21, 2023.