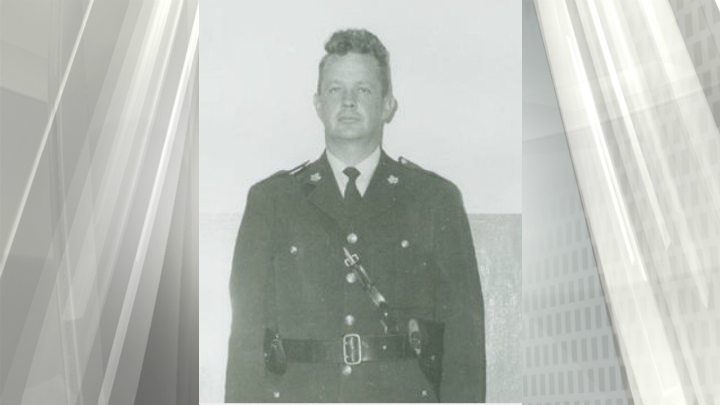 Wednesday marks a sombre anniversary for Saanich Police as the force remembers Cst. Robert Kirby.
Kirby was shot and killed on April 24, 1960, by a mentally ill patient that escaped from the Colquitz Provincial Mental Home, now the location of the Vancouver Island Regional Correctional Centre.
Saanich Police held a gravestone memorial service at Royal Oak Burial Park Wednesday morning to honour Kirby, who was known as 'Barry'.
Saanich police says Kirby was working at the detachment's front desk and joined other officers responding to the Wilkinson Road area, after Raymond Harold escaped the hospital.
Harold broke into a nearby shed and stole two .22 calibre rifles and shot at unarmed staff.
Kirby was among several search teams, but was ambushed by the escapee who was hiding in bushes about 15-feet away and shot the officer in the chest.
Police say Kirby died instantly when the rifle round pierced his heart.
59 years ago Cst Robert Kirby made the ultimate sacrifice. We will never forget. pic.twitter.com/IoKHGPoe0d

— Saanich Police Association (@SaanichPoliceA) April 24, 2019
A corporal returned fire, but the shooter fled into a wooded area near Viaduct Avenue.
Harold opened fire again about 40 minutes later, shooting an unarmed psychiatric nurse in the shoulder, who survived her injuries.
The escapee was then shot by Saanich Cst. Mycock and arrested quickly.
Police say due to his mental health, Harold never stood trial and was recommitted to a different location.
Kirby had been with Saanich Police for about two years.
He was a nine-year police veteran, with seven years served in Manitoba and he also served with the Royal Canadian Navy.
Saanich Police says its conference room has been named in Kirby's honour, where a display permanently resides.