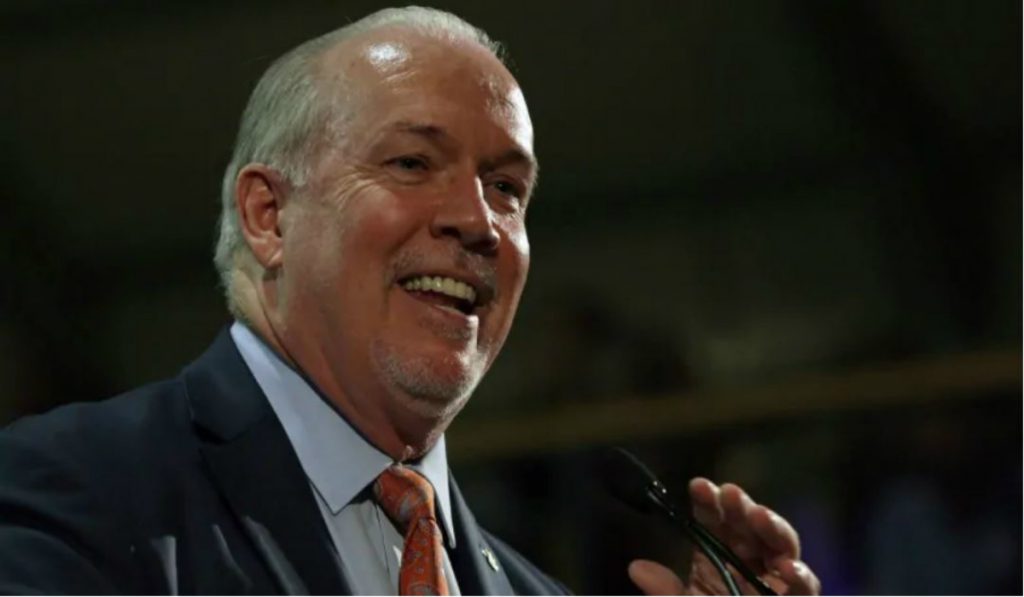 (Photo courtesy CBC.)
Results of an Research Co. poll shows the governing NDP as the most popular choice among B.C. voters if an election was held tomorrow, and the premier has the highest approval rating of provincial party leaders.
The survey finds 32 per cent of B.C. voters would vote NDP in their constituency, compared to 25 per cent for the Liberals and 17 per cent for the Green Party.
The NDP advantage is bigger on Vancouver Island, with 36 per cent saying they would support the NDP to 20 per cent in favour of the Liberals and 19 per cent said they would go Green.
Participants were asked about their approval of each provincial party leader and Premier John Horgan got a slight majority that said they strongly or moderately approved at 51 per cent.
That number for the NDP leader is 59 per cent on the Island, with 16 per cent strongly approving Horgan's performance and 31 per cent approval from those who voted Liberal in 2017.
Green Party leader Andrew Weaver had the second-highest approval rating at 42 per cent provincially and 48 per cent on Vancouver Island.
Opposition Liberal leader Andrew Wilkinson has 34 per cent approval provincially and 31 per cent approval among Vancouver Island poll respondents.
Two years into taking over provincial power, Research Co. says the NDP has retained the most voters from 2017 at 73 per cent saying they would vote NDP again in an election.
Nine per cent said they would switch to the NDP after voting for the Liberals two years ago, while 68 per cent would vote Liberal again and the party gained three per cent of 2017 NDP voters.
Housing, poverty and homelessness is considered the overwhelming top issue facing B.C. today, with 42 per cent choosing it over health care and the economy that were both considered the most important by 11 per cent of respondents.
Research Co. says 800 British Columbians took part in the online poll from May 20 to 22 and the margin of error is +/- 3.5 percentage points, nineteen times out of twenty.