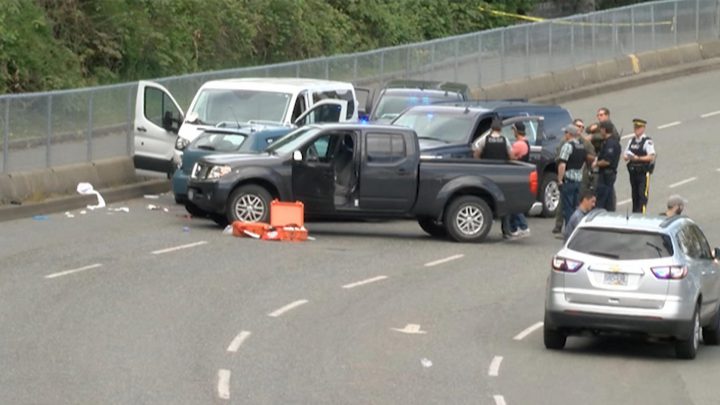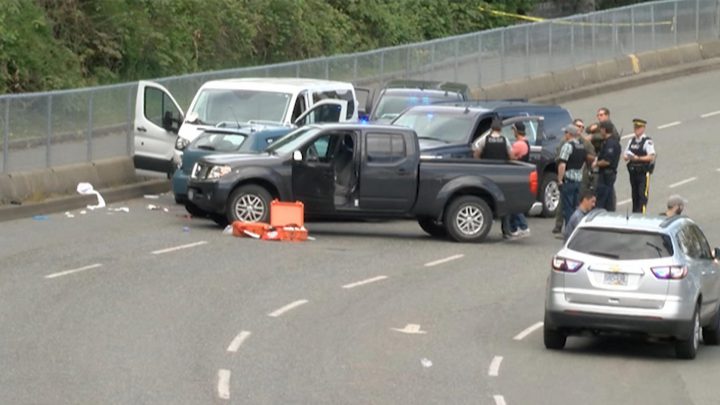 RCMP have revealed more details about a series of potentially linked crimes suspected to have been carried out by a man shot and killed by police in Nanaimo on Tuesday.
Mounties say the first incident was a shooting that happened on 43rd Avenue in Vernon on Monday at noon. A 24-year-old man from Vernon sustained serious injuries in the shooting and remains in hospital.
The alleged gunman was described as a Caucasian male, 5'9″, with blond hair, and was seen leaving the area in a grey 1996 Ford Crown Victoria. The same vehicle was last seen in West Kelowna about 90 minutes later.
Then at 8:35 p.m. on Monday, Penticton RCMP were called to a motel on the 800-block of Westminster Avenue for a report of a man with a gun. He matched the description of the suspect in the Vernon shooting, but he'd fled before police arrived.
Ten minutes later, Penticton RCMP received reports of a carjacking about four blocks away on Maple Street.
The driver of a bluish-grey Pontiac Vibe told police that a man, matching the description of both previous incidents, had asked for a ride to the hospital to see a sick family member.
Once inside, the driver had been assaulted and forced from the car about two kilometres away on Main Street.
The driver sustained serious but non-life threatening injuries.
On Tuesday at 8:35 a.m., Penticton RCMP were notified that the stolen Pontiac Vibe was nearing the Departure Bay Ferry Terminal in Nanaimo.  Officers sought assistance from Nanaimo RCMP to arrest the driver as the vehicle left the ferry.
The suspect was shot and killed by police soon after driving off the ferry in Departure Bay. The shooting is being investigated by the Independent Investigations Office.
While we wish to advance these investigations, we must be mindful of the nexus to the ongoing Nanaimo investigation by the Independent Investigation Office of British Columbia" said RCMP Supt. Ray Carfantan
We will continue to support the investigative needs of our units here in the Okanagan to enhance public safety while respecting that the IIO BC leads the investigation on Vancouver Island.
Vernon North Okanagan and Penticton RCMP say the Ford Crown Victoria has been recovered.
Investigators are also working to either confirm or eliminate information in order to determine if the various incidents are connected, if they are connected to a single individual or if others are involved.