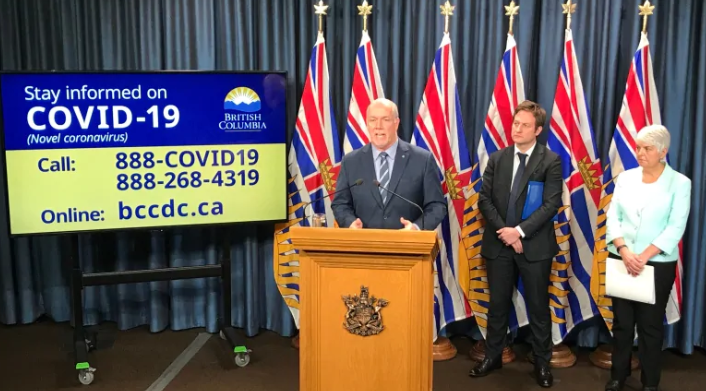 Premier John Horgan, the head of the NDP party in British Columbia, is welcoming the announcement from Justin Trudeau and the Liberals ordering a shutdown of the Canada-USA border.
In a statement released from the head of the BC Government on Wednesday, Horgan outlined this was the right decision to protect Canadians.
"I welcome the news on the border measures announced today by the federal government. We need to limit non-essential travel over the U.S. border, while maintaining our supply chains, so people have access to essentials," said Horgan.
The BC Premier pointed to the other elements of Trudeau's announcement, particularly the economic relief package that will provide benefits for those not eligible for Employment Insurance, and showed his approval.
"As we know, more and more people are working contract-to-contract or are self employed in the gig economy. These workers also deserve direct support as they self-isolate or care for a family member or children. Therefore, I am pleased to see that federal government responded to our request for additional benefits for those who don't qualify for Employment Insurance," said Horgan.
Earlier on Wednesday, the federal government announced a massive $82 billion stimulus package dedicated to Canadians and small businesses in order to assist them in the difficult landscape created by the COVID-19 outbreak.
"We will be conducting a full review of the of the federal package announced today, and we will work with our federal partners to advocate for higher benefits so people will be able to afford rent and essentials while staying home during this crisis," added Horgan in his statement.
Travel has been significantly restricted from various policies and that is having a major impact on one of British Columbia's biggest industries: tourism. On top of that, provincial health officer Dr. Bonnie Henry has put a temporary ban on bars and restaurants in order to practice social distancing. It is measures like these that are making it difficult for small, local businesses to survive.
"Our government is working on details of a B.C. plan. Our focus is on supporting services that protect the health and safety of people impacted by the COVID-19 virus. We will expand on the federal government's efforts to offer immediate relief for people and businesses, and build our longer-term plan for economic recovery in collaboration with the business community," said Horgan.
It was also announced Wednesday from BC Minister of Public Safety, Mike Farnworth, that the province is declaring a state of emergency.