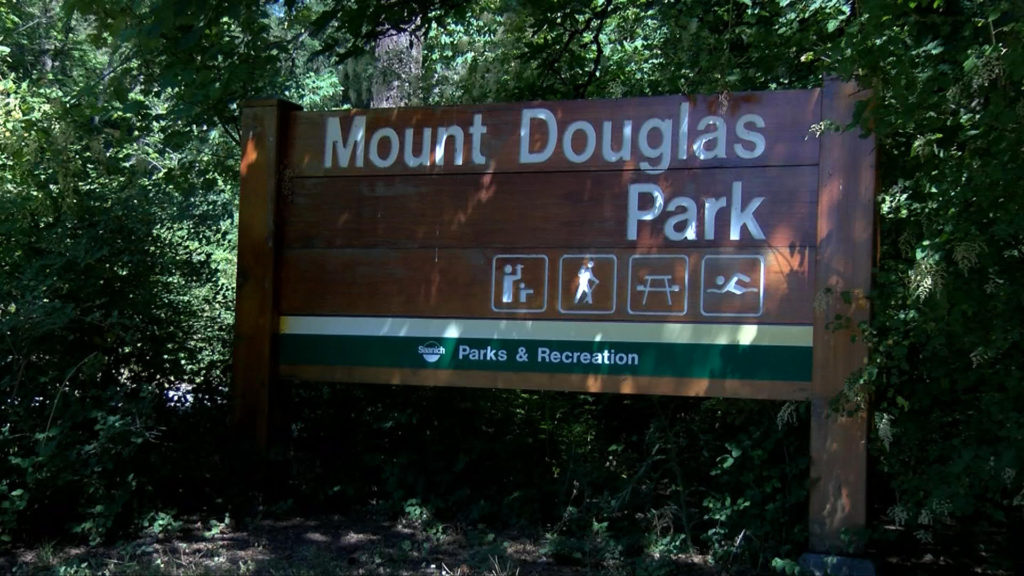 Mount Douglas Park will soon be known by its historical name.
District of Saanich councillors voted Monday to move forward with officially changing the name of Mount Douglas Park to PKOLS (pronounced P'cawls).
PKOLS is and has been the name of Mount Douglas in SENĆOŦEN — the language of the W̱SÁNEĆ (pronounced Wa-Saanich) — for thousands of years. The mountain itself is extremely significant to the W̱SÁNEĆ people and is ingrained in creation stories, culture, and history as a border between nations and an important meeting place.
"It was created by XÁLS as the border between us and the Lekwungen people, and it was where we met with James Douglas in 1852 to discuss what became known as the Douglas Treaty. For these reasons, we, as W̱SÁNEĆ people, have a special relationship with PKOLS," Eric Pelkey, community engagement coordinator for the W̱SÁNEĆ Leadership Council and Elder from the Tsawout First Nation, said in a press release.
Efforts to rename Mount Douglas Park have been in the works for nearly a decade. In June 2021, councillors were set to officially move forward with restoring the park's original name but opted against it until a Memorandum of Understanding could be signed between Saanich and W̱SÁNEĆ. Later that year, the two councils signed an MOU which identified restoring the name of the park as a top priority.
Saanich Mayor Fred Haynes, in a statement issued Tuesday, called the naming restoration another "step forward" towards reconciliation.
The district says staff will work with W̱SÁNEĆ Leadership Council on a name restoration ceremony to take place in 2023. More information will be shared on the District of Saanich's website when it becomes available.
RELATED: It's called PKOLS not Mount Doug, say W̱SÁNEĆ as Saanich set to vote on name change