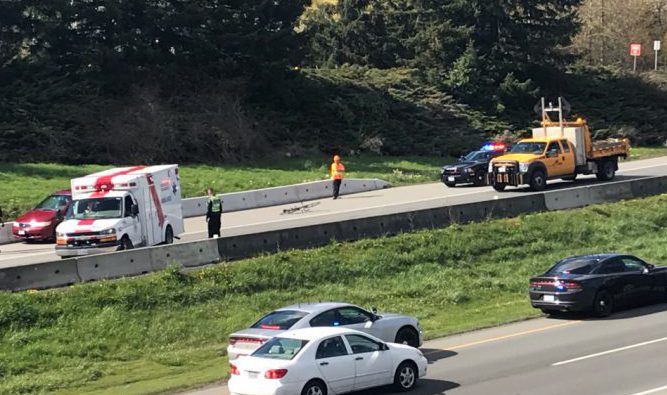 Saanich police say a 24-year-old man from Victoria died Sunday after he was hit by a truck on the Pat Bay Highway by the Royal Oak overpass.
According to police, the man was walking with his bicycle beside the southbound lanes of Highway 17 when he stepped into traffic and was struck. Police said the driver of the truck had no opportunity to avoid the collision.
The man was significantly injured and died at the scene. His death has not been deemed suspicious and the investigation is now being handled by the BC Coroners Service.
At this time, Saanich police says the name will not be released.
Police said on Saturday, Saanich police and VicPD had contact with the man for mental health concerns. As a result of this, the Independent Investigations Office (IIO) of BC was notified.
"This was a very traumatic event that has affected many people and Victim Services is involved. Our condolences go out to everyone impacted by this man's death," Saanich police said in a release.
The IIO said it was notified on Sunday about the death of the man and that police had contact with the man on April 6. The IIO said the man was hospitalized overnight for matters unrelated to his interactions with police. There was no further police involvement after that time, nor after the man was released from hospital on April 7.
After a review of all the information, IIO Chief Civilian Director Ronald MacDonald said any investigation of the actions of police would be discontinued.
"The IIO is required by the Police Act to investigate incidents where the actions or inactions of a police officer may have resulted in the serious harm or death of any person. In this case, the actions that led to the death of the male were clearly not related to any interaction with police from the previous day," IIO said in a statement.
The southbound lane was closed for several hours near the Royal Oak Drive turn-off as officers and emergency personnel responded.
CLEAR – #BCHwy17 – Southbound lanes are now open north of Royal Oak Dr on #PatriciaBayHwy following vehicle incident and assessment. #VanIsle #YYJ #VictoriaBC

— Drive BC (@DriveBC) April 8, 2019