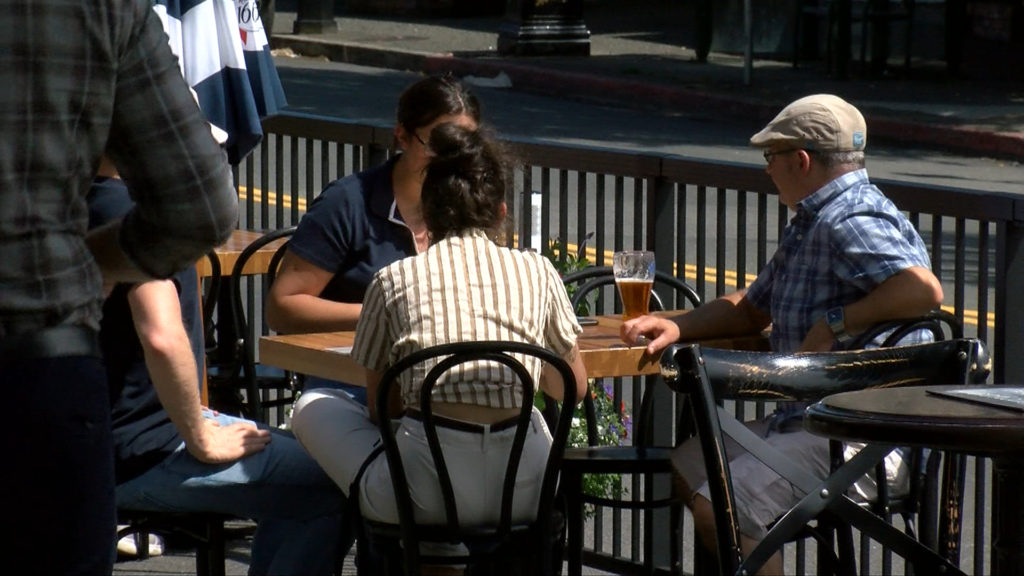 Summer is swinging into full gear as people in Oak Bay enjoy their ice-cold beers and warm nachos outside as many restaurants expand into public spaces thanks to a recent bylaw change.
Oak Bay has recently given restaurants the gift of space amid COVID-19, allowing them to extend their patios into sidewalks and parking spaces.
It's an opportunity the Penny Farthing and restaurant Vis-a-Vis have taken full advantage of by turning four parking spaces into more square footage for tables and patrons.
"We've had nothing but a very overwhelmingly positive experience regarding the patio, and response from the community," said Matthew Field, the operational manager of the two restaurants. "We're essentially full for those hours from 4 p.m. till late. So its been really positive for us."
READ MORE: Pubs, restaurants can now apply for expansion of patios and outdoor spaces: B.C. Gov't
But the loss of parking and increased noise is not music to the ears of some nearby retailers.
"The sidewalk traffic is gone and the parking spaces are gone and so it just is kind of frustrating," said Gloria Shockey, a sales associate of the clothing store directly across the street from the Penny Farthing, the Shabby Rabbit,
Shockey says the loss of the nearby parking spaces has cost them many customers and recalls a woman who regularly shops at the Shabby Rabbit, who told her she will not be back any time soon because of the patio.
"She said 'well there's a patio across the street and I can't park there anymore, and I can't walk a whole block to get here,'" recalls Shockey.
And the retailer says they've heard many similar stories as their customer base shrinks due to the lost parking.
On the other side of the street, the restaurant manager says the patios are a sunny addition to the community.
"I really encourage all restaurants here in the village and in Estavan as well and to follow suit and do the same," said field.
The clothing store, however, says although the patio creates great foot traffic near the pub, customers aren't actually coming over to shop.
But it could be a different story for retailers sharing the same side as the restaurants, as the local artist shop Side Street Studio says the traffic from the patio is creating many walk-in cases.
"One fellow had dinner the night before, walked by the window and liked something that he saw and came back the next morning to buy it," said Side Street Studio owner Jill Fitzhirschbold.
For now, some are just looking for a middle ground.
"We all enjoy shopping. We all enjoy patios, I just hope we can find a way that works for everyone," said Shockey.