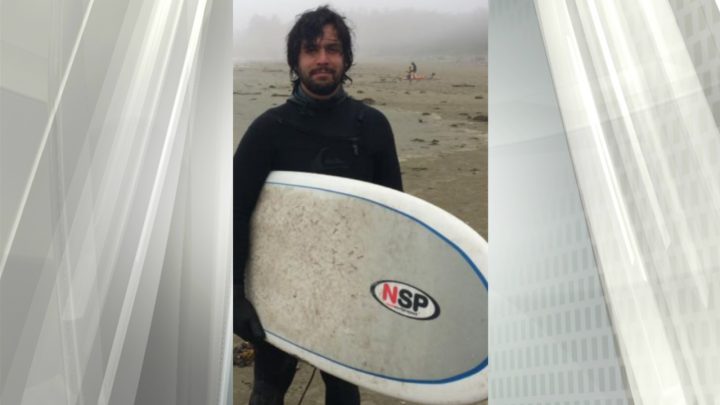 The official search has been suspended for the Sooke surfer reported missing in the water in Port Renfrew a week ago but the family said they will continue to look for him.
Jonah Mayhue was last seen entering the water at the north end of Pacheedaht Beach in Port Renfrew at around 11 a.m. on May 8 a.m. Mayhue was wearing light-coloured board shorts and carrying a surfboard. Police recovered the surfboard but Mayhue has not been located.
On May 13, 2019, the search for Mayhue was suspended by RCMP and partner agencies, including the Juan de Fuca Search and Rescue, Joint Rescue Coordination Center, RCMP Westcoast Marine, RCMP Police Dog Services, RCMP Underwater Recovery Team, RCMP Search Incident Commanders and Parks Canada.
On Wednesday, Mayhue's family released a statement through RCMP offering more details about the last time Mayhue was seen.
"At this time search and rescue has suspended its extensive land, air and sea search for Jonah. Jonah used his surfboard to cross the Gordon River at low tide to the West Coast Trail side. He was last seen watching two grey whales rubbing on the rocks at the river's entrance. An hour later Jonah's surfboard was found on Pacheedaht beach but there was no sign of him," the family said in the statement.
After a comprehensive five-day search Jonah has not been located. The huge effort put forth by the search and rescue teams, Parks Canada, the RCMP, family, friends, and citizens of Pacheedaht and Port Renfrew provides us with much-needed solace. We deeply thank everyone involved in the search for their unrelenting dedication to finding our Jonah."
The family said they will continue to look for Mayhue. Anyone with information is asked to call Sooke RCMP at 250-642-5241.
"We request privacy at this time but look forward to sharing everyone's memories of our son and brother."