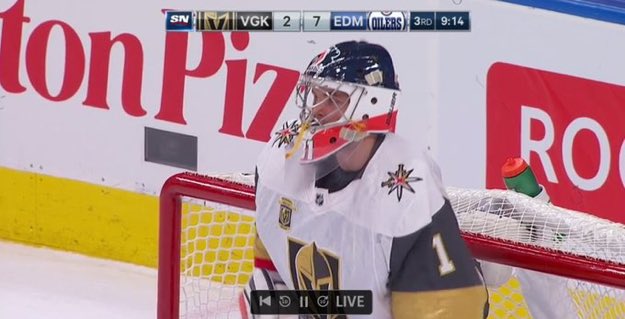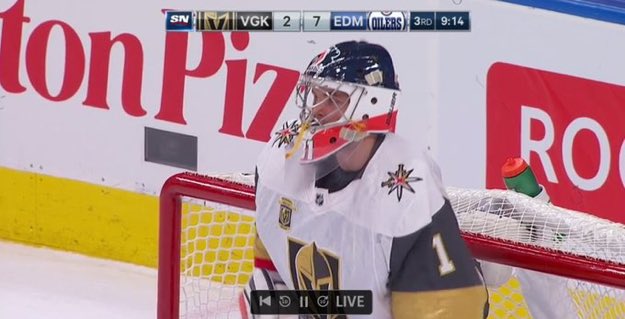 Twitter/Kamloops Blazers
Tuesday in Edmonton may have been a game to forget for the Vegas Golden Knights. But it was certainly a night to remember for a Vancouver Island teenager.
Goalie Dylan Ferguson made his NHL regular season debut late in the third period of an 8-2 loss to the Oilers.
The Lantzville-native took over from starter Maxime Lagace after he gave up the seventh goal on just 22 shots.
Coming Out Of The Game: Maxime Lagace
Going Into The Game: Dylan Ferguson

— Vegas Golden Knights (@GoldenKnights) November 15, 2017
The 19-year old Kamloops Blazer product, still wearing his Blazer's equipment, ceded one goal on the two shots he faced over the final 9:14 of the game.
"It wasn't the outcome the team wanted but my dream just came true," Ferguson told reporters after the game.
"I'm just really grateful for everything that's happened."
Ferguson is the fifth goaltender to play for the expansion Golden Knights already this season because of injuries including to Marc-Andre Fleury.
He was called up the WHL on an emergency basis at the beginning of November.
He came to Las Vegas over the summer via a trade with the Dallas Stars, home to Island-born star Jamie Benn, just three days after he was taken 194th overall in the NHL draft.
The Knight's social media team celebrated Ferguson's debut by poking some fun at the teenagers sudden rise to the big leagues.
Reminder: Only two years ago, Ferguson couldn't legally get into an R-rated movie. https://t.co/q1qXs42z8E

— Vegas Golden Knights (@GoldenKnights) November 15, 2017
The Golden Knights will be in Vancouver on Thursday to play the Canucks, when Ferguson may get another taste of the big leagues even closer to home.