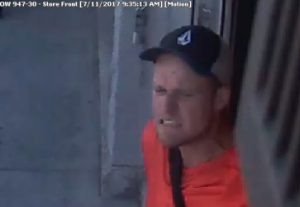 UPDATE: Nanaimo RCMP has arrested a suspect after theft of money designated for the BC Children's Hospital on Wednesday and is currently in custody.
The 27-year old Nanaimo man was arrested without incident by a patrol officer with the Nanaimo RCMP on several outstanding warrants from Nanaimo and Victoria.
He appeared in Nanaimo Provincial court on that same day and will be serving 60 days jail time as a result of his existing charges.
Nanaimo RCMP are asking for the public's help in identifying a man who allegedly stole donations designated for the BC Children's hospital.
The theft took place at the Save On Foods, Brooks Landing location and on Tuesday, July 11th at approximately 3:10 pm.
The 10 litre container with several hundred dollars of coins was kept at the service desk and when employees realized the jug was missing, store video surveillance was reviewed.
The video clearly showed the suspect walking up to the service desk, picking up the jug then walking down a nearby aisle with it.
He then stuffed the jug into a duffel bag he was carrying, took off his shirt and put on an orange t-shirt.
He then walked out of the store.
The suspect is a white male, approximately 30-35 years old, with short hair wearing a baseball cap.
He was last seen leaving the store wearing an orange t-shirt and knee length black shorts.
Our staff is devastated to think someone would steal money donated for sick children," said David Malik, Store Manager at Brooks Landing Save On Foods.
We have supported the BC Children's hospital for years and we just hope the person responsible does the right thing and returns the money.
If anyone has information on the identify of the suspect, please call Nanaimo RCMP at 250-754-2345 or Crime Stoppers at 1-800-222-8477.