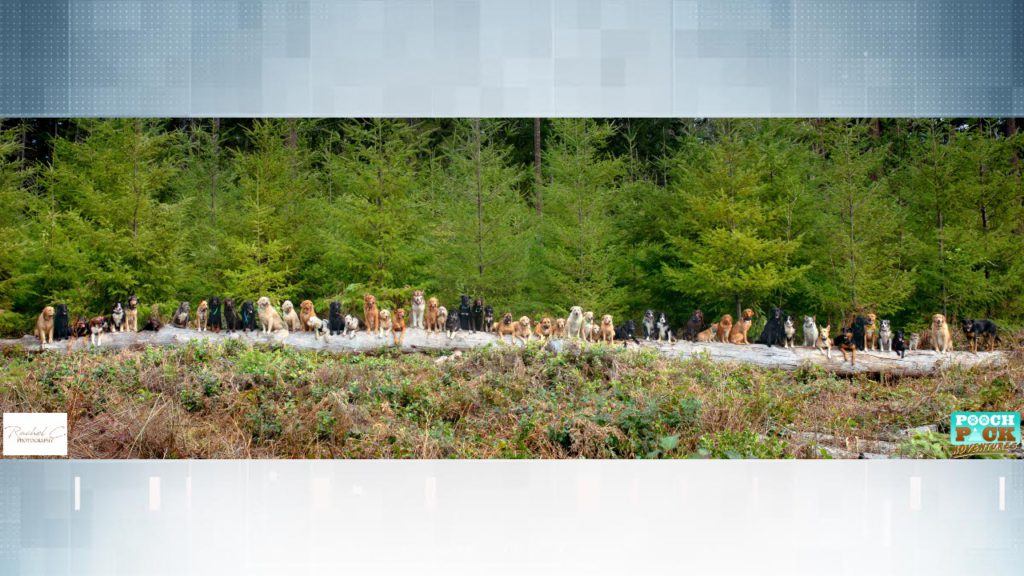 A company in Nanaimo has exceeded its 40 dogs on a log fundraiser in 2015, by photographing 55 dogs on a log to raise money for people leaving domestic violence.
Kim Sirett, owner and operator of Pooch Pack Adventures says when people are leaving situations with domestic violence, having a pet can complicate leaving plans as many shelters don't allow pets.
"When victims have pets, it creates another reason to stay because they can't go somewhere with their pets or they are too afraid to leave their pets behind," Sirett said.
Research from the University of Windsor shows that in Canada, 56 per cent of people facing domestic violence delayed leaving their abuser because they could not bring a pet with them to a shelter.
In 2015, Sirett decided to raise money for a BC SPCA program where people fleeing domestic violence can board pets with the SPCA.
The money raised goes to the BC SPCA in trust for people who are staying at the Haven Society to have the boarding fees covered.
"There is this specific need being fundraised for, which is the compassionate or emergency boarding that the SPCA does, and they had this available but it wasn't really known and they've been financing it themselves," Sirett said.
"So we decided to take that and make a big awareness campaign that this is available because people that are in domestic violence situations don't necessarily know that these services exist."
Sirett says she has close connections to the issue of domestic violence, which is why she chose this cause.
"I have some personal experience with that, but I've also known several people, whether they were family or friends that were in these situations and it's just something that you would have never guessed about a person that was going on behind closed doors," Sirett said.
"It's just such an easily hidden social issue. It doesn't always have to show bruises and scars, the emotional and mental abuse, there's such a high per cent of that going on in relationships and it just doesn't get seen."
Following the 2015 fundraiser, Sirett says the goal was to do a second on the five-year anniversary, but the pandemic put the plan on hold.
"We were actually going to do it exactly five years after in 2020, but then COVID came along so we just postponed it," Sirett said.
"Until just this spring I started thinking 'you know what, I think we might as well do this while we can'. So five of us took 11 dogs each and we hiked them separately first and then we blend them together after they've gotten some of their energy burned out, and then we marched on to the log and got 55 dogs up there."
Sirett says the idea for the fundraiser initially came out of a personal challenge.
At the end of each walk, the team at Pooch Pack Adventures takes a group picture with their pack of 10 dogs, and Sirett thought it could be turned into a fundraiser.
"I had been, for years, wanting to give something back to the community about my own personal experiences with it, about leaving a situation with a child and pet and I wanted to do something where I could help other women," Sirett said.
"So I just decided well you know what, this is it because this is like a marathon basically they did oh people can pledge to donate hoping that we'll succeed with this challenge."
Although the picture has now been taken, Sirett says the fundraising continues, and anyone who wants to donate can do so through the GoFundMe here.
Sirett says the plan is also to sell prints of the photo of 55 dogs on a log, and once those are available information will be posted to the GoFundMe and the Pooch Pack Adventures Facebook page.