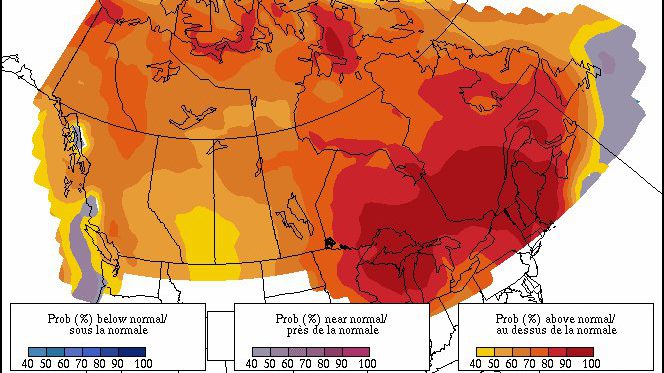 Environment Canada/Twitter
Heading into July, Environment Canada has forecast that most of the country is expected to have higher-than-normal temperatures as a result of climate change.
On Vancouver Island, the weather agency says the probability of higher-than-normal temperatures is 60 per cent for most of Vancouver Island, and 40 per cent for the North Island.
Ontario and Quebec are the two provinces with the highest chances of increased temperatures.
In a news release, Environment Canada says these temperatures in July through to September follow June, where the northern Prairies, northern Ontario, and northern Quebec already experienced above-average temperatures.
"Many parts of the country are already experiencing the devastating impacts of wildfires, driven mainly by higher temperatures and seasonal dryness associated with a warming climate," Environment Canada's news release says.
"In anticipation of a warmer, drier summer and its associated severe conditions, Canadians are urged to regularly monitor weather forecasts, take all weather alerts seriously, and get prepared for weather-related events by developing an emergency plan."
RELATED: B.C. braces for potentially worst wildfire season on record
Get Prepared Canada advises Canadians to have basic supplies to support their household for at least 72 hours at home, and recommends having an emergency car kit as well.
The agency has a number of guides and resources available to help Canadians be ready in the event of an extreme event or evacuation.
"Climate change is already affecting the frequency, duration, and intensity of extreme weather- and climate-related events in Canada," Environment Canada says. "Climate models indicate the country is warming at roughly double the global rate, especially in the north, which will lead to more damaging weather events."
The weather agency says climate change is increasing the severity of heat waves and contributing to dry conditions, wildfires, and risks from heavy precipitation.
Climate change can also bring more intense rainfall, which brings an increased risk of floods.
2/2 #ClimateChange is affecting the frequency, duration and severity of extreme weather in Canada. Before going out, get the latest weather statements, advisories, watches and warnings on #WeatherCAN: https://t.co/hyZMxb9EcV

— Environment Canada (@environmentca) June 20, 2023