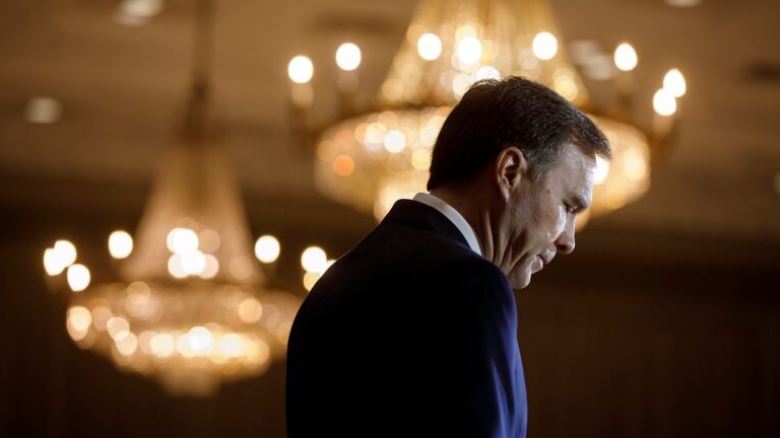 h 6, 2020. (Cole Burston/The Canadian Press. Photo courtesy of CBC.
The federal government will provide financial help for quarantined Canadians over novel coronavirus concerns, and pad its budget contingency should the economic hit be prolonged and deep, Finance Minister Bill Morneau said Friday.
Details about those plans will be coming shortly, Morneau said, who also noted federal officials are mulling measures to insulate the economy from the effects of the outbreak that has now spread to more than 75 countries around the world.
The disease known as COVID-19 has roiled financial markets, spurring the Bank of Canada to take a deeper cut to its trend-setting interest rate this week than it originally envisioned. It has caused sharp declines in trade with China, a drop in oil prices, upended travel plans, and sickened dozens of Canadians and hundreds of thousands more globally.
READ MORE: B.C. government focuses on containment, unveils COVID-19 response plan as coronavirus cases climb globally
The full effect COVID-19 will have on the national economy will depend on the depth and geographical spread of the coronavirus outbreak in Canada, Morneau said in a breakfast speech to the Canadian Club of Toronto.
Speaking afterwards, Morneau said the government has the fiscal wiggle room to help businesses through any challenges, as well as workers who may have to be away from work for any period of time.
He said the upcoming budget will have a "greater provision for risk" in the economy, and help with immediate health issues, while trying to decrease the federal debt as a percentage of the national economy, known as the debt-to-GDP ratio.
"In crafting a budget, we're going to need to balance all of those things – as we always do," Morneau told reporters.
"What I can tell you is we will maintain our fiscal firepower to deal with potential challenges down the road while ensuring that we are also dealing with the issues immediately."
In November, the government reduced the cushion for this fiscal year to $1.5 billion because data through two-thirds of the fiscal year suggested risk "as a whole has been reduced." The fall economic update had a $3 billion cushion in its projections for the new fiscal year that starts April 1.
The figure is projected revenues the government sets aside annually as a shock absorber if the money doesn't materialize due to an economic downturn. If untapped, it can go to pay down the federal debt.
The number counts against the deficit, which is projected to be $28.1 billion before accounting for any new spending promises.
CIBC chief economist Avery Shenfeld, in a note following Morneau's speech, suggested the finance minister shouldn't be tempted to cut spending or raise taxes to hit a deficit target. He added a one-time bump in federal health transfers to provinces may be in order to cover any increased costs from COVID-19, as well as direct fiscal stimulus to prod consumer spending, which the economy relies upon.
Morneau said the fiscal response here would account for domestic conditions and may look different than in other countries.
The federal NDP's health critic said Morneau's comment amounted to "announcing that you will announce something" in the face of immediate needs.
"People who can't afford to take a sick day need help right now," Don Davies said in a statement.
The Opposition Conservatives questioned how much the Liberals could muster in spending. Pat Kelly, the party's associate finance critic, said the Liberals failed to prepare for a downturn by running deep deficits during better economic times.
"Now the cupboard is bare as Canada's economy faces both a domestic economic crisis of capital flight, project cancellations and supply disruptions due to the illegal blockades, and the prospect of a global downturn triggered by the coronavirus," he said in a statement.
The blockades cancelled train service and prompted temporary layoffs as demonstrators across the country showed support for Wet'suwet'en hereditary chiefs who oppose construction of the Coastal GasLink pipeline through their territory in British Columbia.
Morneau said he sees the issues around the blockades as being "largely resolved," but added, "will things happen again? I can't predict."
Story by Tara Deschamps and Jordan Press, The Canadian Press