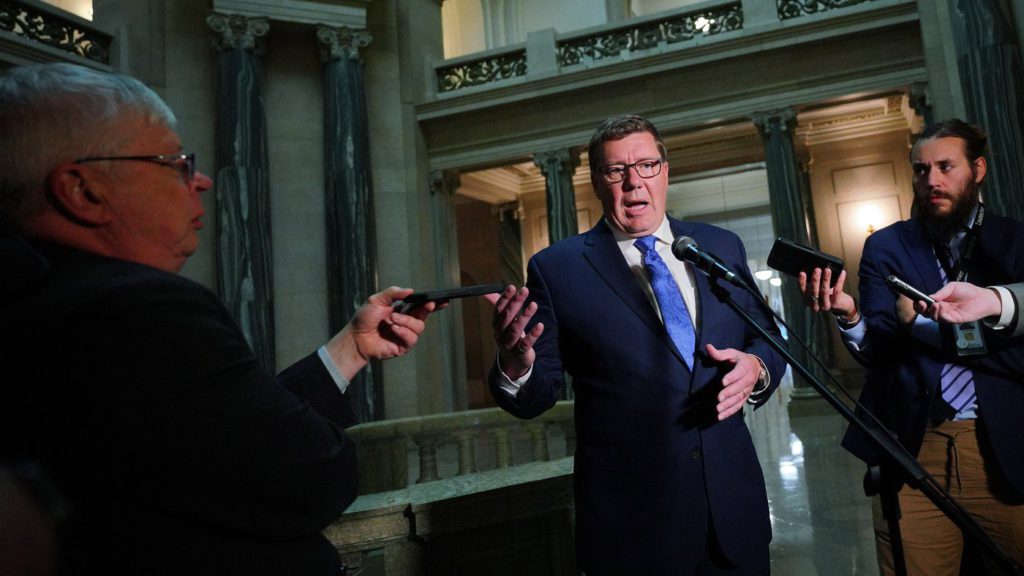 THE CANADIAN PRESS/Heywood Yu
Nearly half of Canadians say they support their province using the notwithstanding clause to ensure that schools tell parents if their child wishes to use a different name or pronoun, a new poll suggests, and more people support that idea than oppose it.
New data also suggest a majority of Canadians believe teachers should have to notify parents of such changes. Just under half said that should be the case even if a child tells their teacher they don't feel safe informing their parents.
Polling firm Leger recently asked Canadians a series of questions regarding the ongoing debate around "parental rights."
The phrase, which refers to parents' desire to be involved in the decisions of their children and of schools, has gained increasing traction in Canada over the past year.
Many people who use the term say they are concerned about lessons kids are learning on the topics of gender identity and sexual orientation.
Those pushing the issue have also been critical of policies designed to make transgender and nonbinary students feel more welcome in classrooms, as well as activities like raising the rainbow Pride flag at schools.
SEE ALSO: Debate over pronouns pits parental rights against the rights of children, experts say
According to the new results from Leger, Canadians are divided on whether sexual orientation and gender identity should be discussed in schools at all.
Just over half of respondents, or 54 per cent, agreed that these are important topics kids need to be aware of, and schools need to discuss them.
The other 46 per cent said their views were more aligned with a statement saying such topics shouldn't be discussed in school, and should only be left to parents to address with their children.
Christian Bourque, executive vice-president of Leger, said what is noteworthy is the fact that Canadians appear more divided on this issue than on other topics taught in schools, such as racism and climate change.
"Is there a form of unease that these things are discussed in schools?" he asked.
Nearly half, or 48 per cent, of respondents said sexual orientation should be discussed in classrooms across the country, while 42 per cent said gender identity should be discussed.
But there was far more support for the discussion of alcohol and drugs, at 82 per cent; racism, at 80 per cent; climate change, at 78 per cent; and truth and reconciliation, at 74 per cent.
A total of 1,518 Canadians participated in the web survey from Oct. 6 to Oct. 9. It cannot be assigned a margin of error because online polls are not considered truly random samples.
On the issue of whether schools should notify parents if their child wants to use a different pronoun, the survey suggests Canadians have drawn a clearer line.
Leger found that 63 per cent of respondents expressed support for a school having to inform a child's parents if they wish to be referred to by a different pronoun or gender. Only 22 per cent said that should not be required.
Bourque noted that the level of support dropped when respondents were asked to think about the consequences to a child.
When asked whether teachers should be obligated to notify parents that their child is using a different name or pronoun even when the child tells the teacher they don't feel safe informing their parents, 45 per cent of respondents said yes, compared to 35 per cent who said no. Another 20 per cent of respondents said they were unsure.
Bourque said the findings suggest that while Canadians clearly support the call for "parental rights," that support is "not at any cost."'
READ MORE: Trudeau says he never suggested those worried about 'parental rights' are hateful
Both New Brunswick and Saskatchewan have introduced policies that make it a rule for schools to seek parental consent if a student younger than 16 wants to be called by a different name or pronoun — a change that has raised concerns from teachers' unions and child advocates, who say it could harm some kids.
Saskatchewan Premier Scott Moe announced plans to invoke the notwithstanding clause to keep the change in place after a judge granted an injunction last month.
The court challenge had been mounted by Egale Canada, an organization that promotes LGBTQ+ rights and argued the case on behalf of the UR Pride Centre for Sexuality and Gender Diversity at the University of Regina.
The notwithstanding clause is a provision in the Charter of Rights and Freedoms that allows federal, provincial and territorial governments to pass laws that override certain Charter rights for up to five years.
At least 46 per cent of the respondents surveyed said they would support their province using the notwithstanding clause to ensure schools have to inform parents if their child wants to be called a new name or pronoun.
Another 31 per cent said they are opposed to such a move, while 22 per cent said they did not know.
"The results cannot be ignored," said Bourque.
Support for the move was not markedly higher with respondents in Atlantic Canada and the Prairies.
The poll also asked if people would support the use of the notwithstanding clause to ban discussions about sexual orientation and gender identity in schools altogether.
On that question, 40 per cent opposed the use of the clause, while 37 per cent supported it and 24 per cent said they didn't know.
This report by The Canadian Press was first published Oct. 12, 2023.