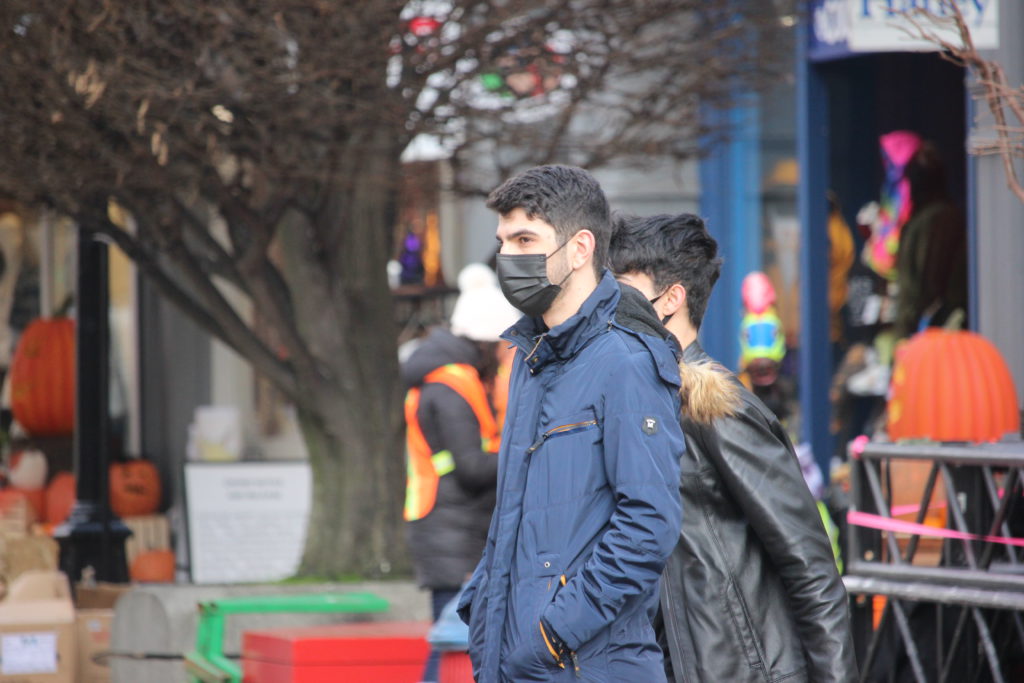 Nicholas Pescod/CHEK News
In B.C., the mask mandates for most public spaces will be lifted as of Friday, leaving immunocompromised people trying to figure out how to manage their risks given the change.
Dr. Bonnie Henry, provincial health officer, announced the coming change with less than 12 hours notice that the mask mandates would be lifted.
Sylvia Fuller, professor of sociology at the University of British Columbia, says this change will mean some immunocompromised people or people with immunocompromised family members will be unable to carry on with school or work.
"We already know that people with disabilities, people with chronic health conditions, are disadvantaged in the labour market pre-pandemic as the best of times," Fuller said. "We know that caregivers, who are disproportionately women, are impacted when people are not able to access schooling for their children and care for their children."
"And so all of these groups are being disproportionately impacted by this policy is exacerbating inequalities, and it is doing so in a way that singles out and excludes and marginalizes the people who are already the most vulnerable in the society."
Gabriel Aclassi, a Victoria resident who has fibromyalgia, says they rely on public transportation so their daily life will now need to greatly change.
"I'm going to be going back to being mostly house bound. I don't drive so I have to take public transit everywhere but that's not going to be safe anymore," Aclassi said. "I'll have to have conversations at work and probably won't be able to go back to work, so my income is going to take a hit and I will go back to seeing even fewer people, I'm going to be very isolated."
Aclassi says they hope people still continue to wear masks even without the mandate.
"Nothing has ended for anyone who's immunocompromised and there's there's considerably more of us than people think there are," Aclassi said. "Think of us a little maybe if you can wear a mask, please. I know there's nothing forcing you but it would be really nice to not get sick and die."
After hearing the announcement, Aclassi says they felt abandoned by health officials.
"My life is worth living. I love my life, no matter how disabled I get, and I would very much like to keep living it," Aclassi said. "I think disabled lives have value and just sort of abandoning us is very, very depressing."
Fuller, whose husband is an organ transplant recipient, has had to make changes to her household in order for her 11-year-old son to go to school.
"With the mask mandate being lifted now, we're in a position where we essentially either have to choose between sending our child to school or having him be able to live with his father or see him at all until the end of the school year," Fuller said.
"Because we already, for this school year in order to send him back, his father moved out and we were using rapid testing on a weekend to be able to see him to reduce the risk."
Fuller says this was an option available to her family, but recognizes having an at-risk family member move out is not an accessible option for most.
Research has shown that organ transplant recipients do have improved immune response after three doses of a COVID vaccine, but are still at high risk for the illness.
Fuller says in the previous school year there were options for online schooling where education was overseen by a teacher, but those options have now been removed.
"So you are effectively required to completely oversee and manage your child's schooling on your own without any training or support," she says. "I mean, this is not equitable access to education. This is truly discriminatory, it's treating this as if this is a choice that families are making instead of a situation that they have no control over."
Henry raised concerns about the mental health impacts on children wearing masks, but Fuller says removing the mask mandate has the potential for other serious mental health impacts.
"Bonnie Henry is concerned about the mental health implications of children wearing masks, but what about the mental health implications if my child brings home COVID-19 and kills his father? How does he live with that for the rest of his life?" Fuller asks.
Robert Kemp, co-owner of Bishop's Family Cycles, says the shop will continue requiring masks, partially because his son is immunocompromised, but also because they frequently have children under five in the store.
"We've already decided that we're not going to lift our mask mandates. We've already put out publicly that we're gonna require it from all of our customers," Kemp said. "But for us the reality is right now I'm going back and forth to Seattle because he's in treatment…For me if I get COVID I can't see him and if he gets COVID, his treatment stalls, so for our family, it's a really big deal."
We are asking that those who visit our shop please wear a mask. As a private business focused on families we often have young children in the store, too young to be vaccinated. We also have a child who is severely immunocompromised, this pandemic is not over for us #yyjbike pic.twitter.com/pXR3FrfqM4

— Bishop's Family Cycles (@BishopsCycles) March 10, 2022
Kemp says his son has brain cancer and is currently undergoing treatment in Seattle.
He says he and his wife were surprised how quickly the mandate was lifted and would have preferred to receive some notice so that plans could be made.
"But it seems like such an easy thing to do [wear a mask]. It just seems pretty ridiculous to us that it's been lifted so quickly," Kemp said. "We just assumed that they would give people more time to put their thought into how they were going to manage their own risk. Because obviously for families like ours one day notice is a bit challenging because we have kids in school."
"We have caregivers, we have a whole group of people who now we have to have talks with about what they're going to do when they go to different places."
Kemp said his children will continue wearing masks in schools due to his families' situation.
"Our kids will probably be some of the few kids left in school after spring break who will still be wearing masks, which will be a challenge for them, because they'll have to explain to their friends why they're wearing masks," Kemp said.
Kemp says although he doesn't have any employees, he thinks about how now the onus is on employees to enforce a mask mandate should a business choose to keep one in place.
"I often think of these frontline employees who have just had the brunt of this. They are often some of the lowest-paid people in society and they're also expected to take the most amount of risk," Kemp said.
"And here we are, lifting the masked mandate and further exposing them to this and I just, I don't think that's reasonable. Whether you're immunocompromised or not, young frontline employees have taken the brunt of this and it frustrates me to see us doing that as a society ."
Fuller says she feels this decision was made due to the wish of people to want to go back to their pre-pandemic lives, without consideration for how others will be impacted.
"The concern about exclusion has been about people who didn't want to wear masks, didn't want to get vaccinated. That's where the concern is," Fuller said. "There's a whole lot of compassion for folks who are mourning what their pre-pandemic life was like and would like to go back to that normal. There's very little compassion, other than lip service, for folks who are actually physically, economically, socially vulnerable."