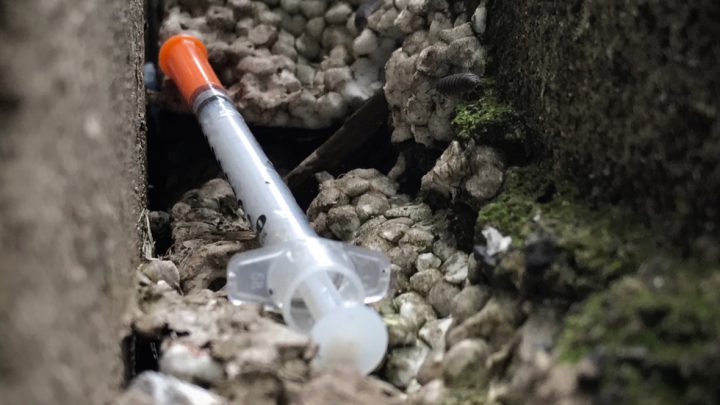 Saanich police say a group of kids were not injured when they were reportedly playing with used syringes they found in Hampton Park.
Police said they responded to a call at 8:30 a.m. Monday morning from a concerned citizen who reported seeing kids using discarded needles as darts at the park, which is near Tillicum Centre.
Officers did not find the kids when they got to the park but they found some needles that were uncapped. The needles were collected by officers and were disposed of.
Saanich police are reminding people that found needles can be dropped off at a number of locations around Vancouver Island.
Patrol officers responded to a call of kids playing with used syringes "like darts" in a park this afternoon. Luckily they weren't hurt.

Used/found needles can be dropped at a number of locations in the region or you can contact @OutreachSolid for pickup. https://t.co/mh8q9jU0yG

— Saanich PD Patrol (@SaanichPDPatrol) March 19, 2019
Island Health recommends the following when an improperly discarded needle is found:
Stay calm
Don't try to replace the cap on needles
Don't snap, break or bend needles
Pick up needle with care, use work gloves if desired
Hold needle point away from you
Put needle in a metal or hard plastic container with a lid (i.e. product or drink bottle)
Replace cap on container securely and label it
Wash hands with soap and water
Drop off the sealed container at a community drop box  (call your municipality about locations in your area), participating pharmacy, your local public health unit, or dispose of the sealed
Other locations for drop-off and harm reduction supply distribution can be found at towardtheheart.com.
Solid Outreach can also be contacted for needle pickup at 250-298-9497 by anyone who does not wish to pick up a needle, sees many needles in a pile, sees broken needles scattered on the ground or has no way of taking the needle in a strong container to a safe place. If you are in the downtown core in Victoria, the Downtown Victoria Business Association (DVBA)'s Clean Team can be called at 250-386-2238.