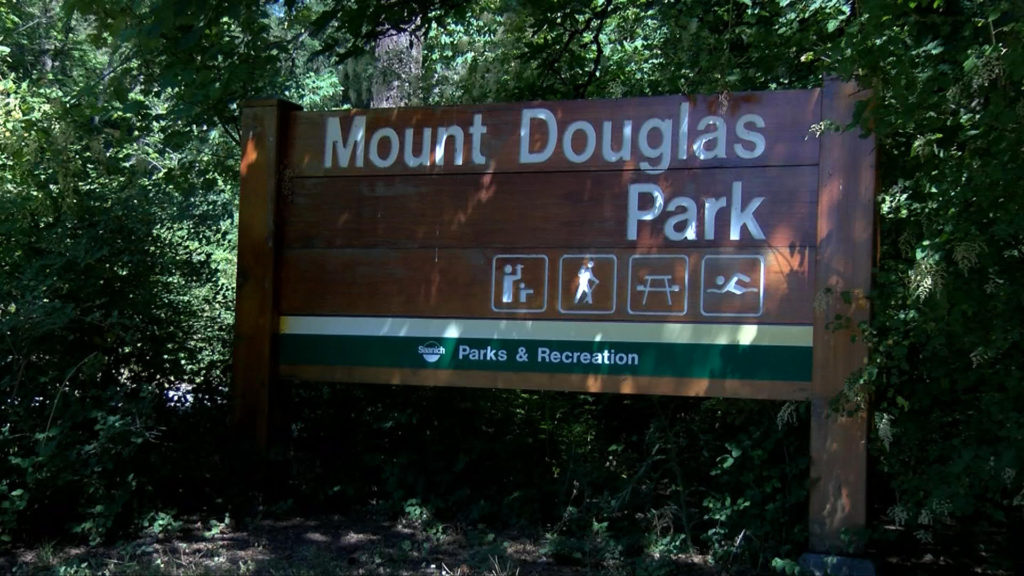 When Eric Pelkey stands atop Mount Douglas, there's a deep reverence and deep history.
"The creator took a white rock from the beach of my village Tsawout and threw that rock and it landed here into the ground and it grew into this mountain," said Pelkey.
The 213-metre rocky outcrop is ingrained in W̱SÁNEĆ (pronounced Wa-Saanich) creation stories, culture, and history as a border between nations and an important meeting place.
It's where Indigenous Chiefs met with James Douglas 169 years ago, a meeting that laid the foundations for the Douglas Treaties to come.
"It really means a lot to us and our people," said Pelkey.
But for the W̱SÁNEĆ, long before it was ever named Mount Doug, it was called PKOLS (pronounced P'cawls).
"To us, the lack of recognition of our sacred names is a slight against the W̱SÁNEĆ people. We've always known this as PKOLS. It's been like this for thousands of years," said Pelkey.
Since 2013, the W̱SÁNEĆ have been trying to formally restore the name with both Saanich and the Province, but have been stalled by red tape, and reluctance.
"Their policies are so cumbersome. They said they're still working on it," said Pelkey.
Saanich council will vote on calling the park PKOLS tonight. Provincial approval of the name change is expected to happen within a year. Meanwhile, momentum to restore Indigenous names is gathering across the region with Sidney council voting for a change last week.
"Sidney council thought it was important in giving its support to the province in changing the name to ḰEL¸SET (pron. Kwall-set) 'the creek in the watershed'," said Sidney mayor Cliff McNeill-Smith
By unanimous vote, Raey Creek is now known by its original indigenous name ḰEL¸SET
Back in Saanich, Mount Doug's name change would just be the beginning for the W̱SÁNEĆ. They're hoping other culturally important locations will be renamed, and for formal recognition of the W̱SÁNEĆ Nation by the Saanich municipality.
Saanich Mayor Fred Haynes didn't respond to CHEK's requests for comment.