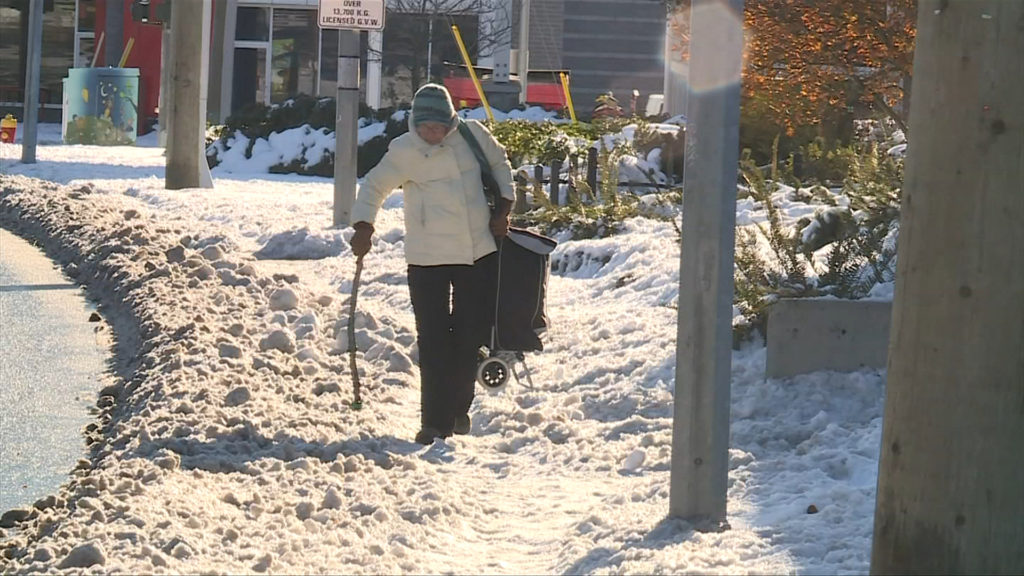 Municipal crews were busy clearing bus stops in Nanaimo once again Thursday, but those trying to catch transit first had to traverse icy and potentially dangerous sidewalks.
"Very, very treacherous. Slippery, really difficult with the cart," said Susan Castator, a transit user.
The 75-year-old is able to get around but she says property owners should clear their sidewalks quicker, especially near bus routes, as it's even more difficult for some.
"I've encountered people in scooters that are homebound because they can't go out in their scooters, and if you need groceries well what are you supposed to do? You're really stuck," she said.
According to city bylaws, Nanaimo's sidewalks are supposed to be cleared within 24 hours of a snowfall.
"I understand business, but I think they should've had something going by now," said Rob Johnson, a Parksville resident visiting Nanaimo.
"Isn't it the business owner's responsibility to clear these a bit better? And they're not. It's a little frustrating," said Michael Marks, a pedestrian.
The city says its snow-clearing bylaw is a complaint-driven process and with all the seniors, people away on vacation and those working long shifts, officers won't be out looking to enforce the bylaw without a reason.
Sidewalks not being cleared after snowfalls has been a source of complaints in Nanaimo for years.
At the North Island Hospital Comox Valley, the sidewalks appeared to be in good shape Thursday — but not the parking lots.
"Pretty treacherous. I don't think they've been cleared. I think there's some ice melt down but it hasn't done the job," said Duane Shalen, who was at the hospital to pick up his wife and was surprised to see the still-slippery conditions.
Island Health says the hospital is run under a public-private partnership and the service provider, in this case Honeywell. has not met expectations.
Island Health says it's bringing in its own contractors to remedy the situation as quickly as possible.