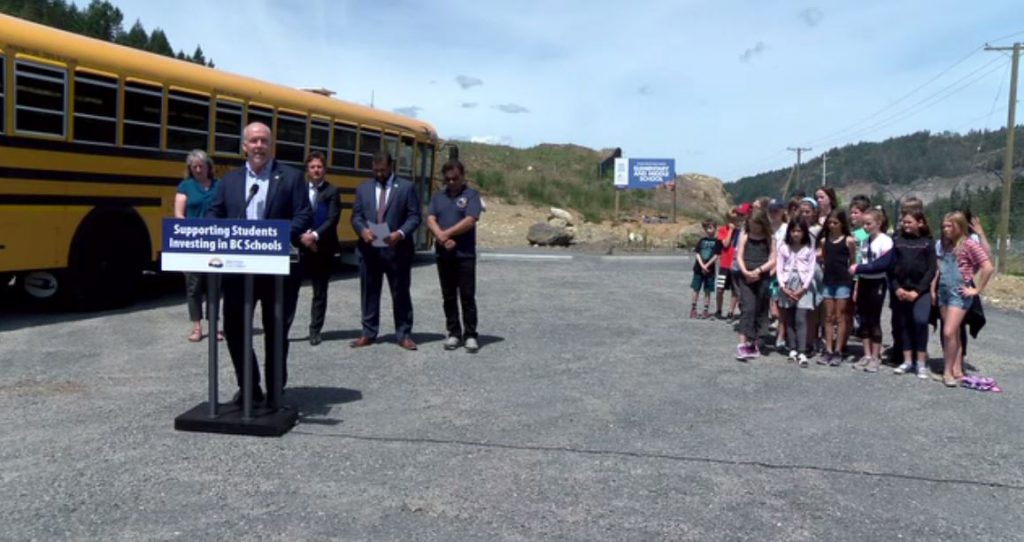 Former Premier John Horgan, ex-Langford Mayor Stew Young and the Chinook word for "outdoors" are among the potential names that have made the cut for a new elementary school on the West Shore.
The shortlist to name the under-construction elementary school in south Langford's Latoria neighbourhood was assembled from 577 submissions made during a public engagement period, which were voted on more than 57,000 times, according to the Sooke School District.
The school district is now consulting with local Indigenous nations as they move closer to narrowing down the final three names to be presented to the Board of Education for consideration.
RELATED: SD62 seeking public input on new name for school in South Langford
Sooke School District 62 asked the public to suggest names for the new school, which received 577 suggestions and just over 52,000 ratings of name suggestions during a public Thought Exchange. Students from Happy Valley Elementary, Hans Helgesen Elementary and Wishart Elementary were also invited to share their suggestions.
The 12 shortlisted names are categorized under three different headings: geographical characteristics, local Indigenous culture and language and historical names. The names are as follows:
Geographical Characteristics
Olympic View
Latoria
Langford or South Langford
Triangle Mountain
Local Indigenous Culture and Language
Klahanie (means outdoors in Chinook)
ȻOSEN (means star in SENĆOŦEN)
QELEṈSEN (means Bald Eagle in SENĆOŦEN)
An Indigenous name gifted by a local First Nation
Historical Names
Scott Manning (former SD62 Principal)
John Horgan (Langford MLA and former B.C. premier)
Sarah Beckett (RCMP Constable who died in the line of duty)
Stew Young (former Mayor of Langford)
Some of the more whimsical names submitted by students from nearby elementary schools included Rainbow Sparkle Elementary, Electric Eel Elementary, West Frogs Elementary, Hych'ka Elementary, and even Hogwarts Elementary, the district said.
According to the school district, consultation with local Indigenous Nations is ongoing, with the Sc'ianew Nation, T'Sou-ke Nation, and Nuu-chah-nulth: Pacheedaht Nation being consulted.
The school district will work to narrow down the submissions and consult with local Nations further before presenting a final list of three names to the Board of Education for consideration.
The final decision will rest with the board. The new elementary school is expected to open in September 2024.