As the province eases restrictions surrounding the COVID-19 pandemic, this year's Remembrance Day will include more in-person ceremonies around Vancouver Island for people to pay their respects to Canada's veterans.
Read on for a list of ceremonies happening this Thursday around Vancouver Island. If you know of a Remembrance Day service that isn't on the list, email it to us at [email protected].
Victoria
Once again, the province's official Remembrance Day service will take place at the cenotaph at the B.C. Legislature on Belleville Street in downtown Victoria.
CHEK News will air a live special hosted by Joe Perkins from 10:30 a.m. to 12:30 p.m. this Thursday, Nov. 11. The ceremony will be followed by the Naden Band Remembrance Day concert "Reflections of Hope," which will also be livestreamed.
You can also watch the special on the CHEK+ app, or on our Facebook and YouTube pages as well as CHEKNews.ca.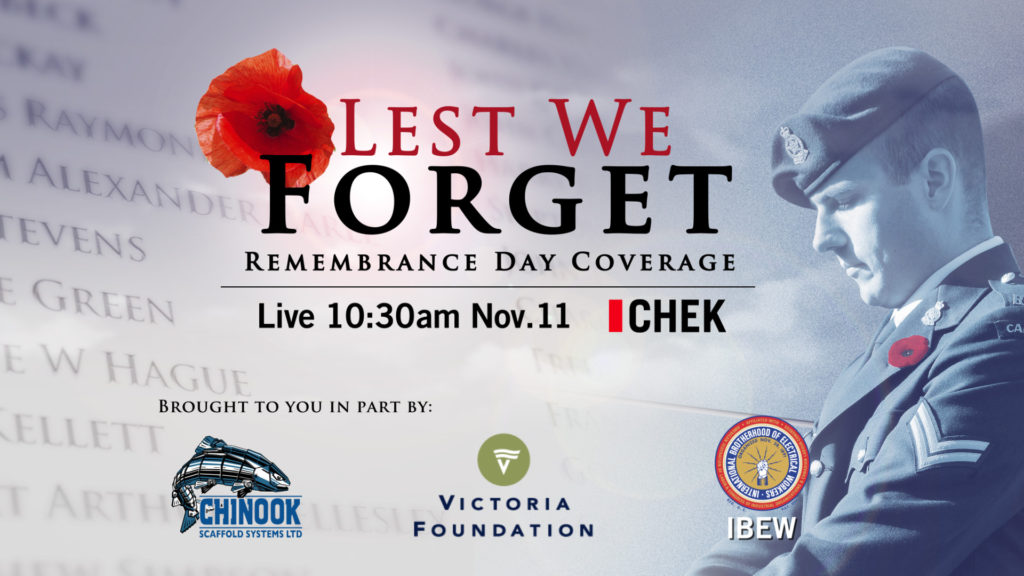 Nanaimo
The Royal Canadian Legion Nanaimo branch will lead Remembrance Day ceremonies in the Harbour City at the Dallas Square Cenotaph beginning at 10:30 a.m.
Following the ceremony, Legion Branch #10 at 129 Harewood Road will open to members, veterans and parade participants from 11:30 a.m. to 1 p.m., then open to everyone from 1-8 p.m.
At Branch #256 on East Wellington Road, an open house will be held from 8 a.m. to 8 p.m. featuring a breakfast, live broadcast of the ceremony, and live music.
The ceremony will also be livestreamed on YouTube.
Oak Bay
The District of Oak Bay will hold a ceremony beginning at 10:55 a.m. at the Oak Bay Cenotaph.
The district notes while the ceremony can be attended by the public, spectators are encouraged to attend virtually by watching the livestream here.
Langford
The City of Langford is hosting a ceremony at the cenotaph at Veteran's Memorial Park beginning at 10:30 a.m. Thursday.
Members of Royal Canadian Legion Branch #91 will also be marching to the park from the Langford Legion. Masks will be mandatory for everyone attending.
Saanich
While Saanich's official 2021 Remembrance Day ceremony will be closed to the public due to the ongoing pandemic, the district will broadcast the event on Facebook live starting at 10:45 a.m. Thursday.
"It's important we take time to reflect and remember those who lost their lives for our freedom," Mayor Fred Haynes said in a statement. "Please join us online November 11 to remember and recognize the sacrifices of these brave Canadians."
Groups who would like to lay a wreath can contact event coordinator Rob Phillips to book a designated time following the ceremony.
Central Saanich
Central Saanich will host both an in-person and online event this year.
The event will be held at Pioneer Park in Brentwood Bay and will include a flypast at 10:45 a.m., with the service beginning immediately after.
For those who can't make it down to the park, you can livestream the ceremony on Central Saanich's YouTube page here.
Sidney
The Town of Sidney will see the return of the Remembrance Day parade, featuring veterans standing in front of the cenotaph at Sidney Town Hall in an "extended formation" at 10:45 a.m. This will be followed by the laying of wreaths and the moment of silence at 11 a.m.
Members of the public are asked to livestream the event from home to support public health during the pandemic.
Sidney Avenue will be closed between 10 a.m. and noon between Third and Fourth streets while the service takes place.
Esquimalt
Memnbers of the Royal Canadian Legion, navy, cadets and Scouts Canada will hold a Remembrance Day parade and ceremony. The parade starts at Tudor House at Admirals and Esquimalt roads, ending at the cenotaph in Memorial Park at 1200 Esquimalt Rd.
Those who attend are asked to respect current public health orders and guidelines.
Sooke
The Sooke Legion will host a virtual Remembrance Day ceremony on its Facebook page at 11 a.m.
The order of service includes:
Salute for flag party
Opening remarks and O Canada
Remembering past members
2-minute silence
Act of Remembrance
Prayer
Laying of wreaths
Benediction
God Save the Queen
Duncan
The Duncan branch of the Royal Canadian Legion will host a ceremony at 10:55 a.m. at the Duncan Cenotaph in Charles Hoey Park on Canada Avenue.
Everyone is welcome, but guests are asked to protect veterans by wearing masks and practicing social distancing.
The ceremony will also be livestreamed on YouTube.
Cobble Hill
A "scaled-down" service will be held at the Cobble Hill Cenotaph this year at 1475 Fisher Road.
Wreaths will be laid prior to the service by members of the local Legion and masks will be required for those who are not seated.
Ladysmith
The Ladysmith Legion Branch will host a scaled down event as well at the cenotaph in Rotary Memorial Peace Garden at Esplanade Avenue and Warren Street beginning at around 10:45 a.m.
Those who attend are asked to socially distance and wear a mask.
Lantzville
A service will be held at 10:45 a.m. in Huddlestone Park. Spectators are welcome but asked to respect physical distancing guidelines.
The local legion will be open following the service for veterans and Legion members.
Port Alberni
This year's ceremony will be smaller and socially distanced and will take place outdoors at the Field of Honour at Greenwod Cemetery at 10:45 a.m.
The service is open to the public but there will be limited space and parking.
Parksville/Qualicum Beach
Parksville's Legion will hold a ceremony with no parade at 10:45 a.m. at the Parksville Cenotaph at 100 Jensen Avenue. Attendees are asked to practice social distancing.
Qualicum Beach will hold an outdoor ceremony as well at the Legion 76 Cenotaph on Veterans Way, preceded by a parade from the Civic Centre.
Courtenay
The City of Courtenay will hold a small ceremony at 10:45 a.m. but spectators are encouraged to tune into a livestream on Facebook to maintain social distancing.
The event will include a flypast from CFB Comox dependent on weather conditions.
Comox
The Legion in Comox will be holding a scaled-down ceremony with no parade or marching, starting at 10:45 a.m.. \
Wreaths will be laid prior to the ceremony. Spectators are asked to wear a mask and to socially distance. The legion will be open for regular business at 1 p.m.

Campbell River
The Legion in Campbell River is hosting a small ceremony at the cenotaph in Spirit Square downtown, but it will not be open to the public this year due to public health restrictions.