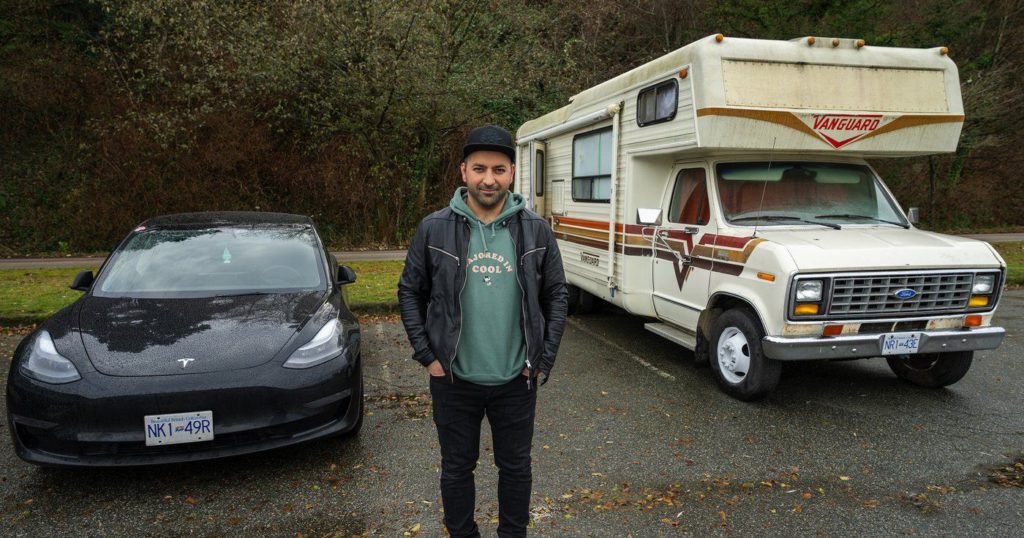 THE CANADIAN PRESS/Jonathan Hayward
At the end of his day, Lucas Philips drives to his home overlooking Spanish Banks Beach in Vancouver, near some of the most expensive real estate in Canada.
He climbs out of his black Tesla and soaks up what he calls his "million-dollar view."
But Philips is no wealthy property owner. His home is a Vanguard campervan berthed in a beachside parking lot.
He spends most of his life on wheels, working as an Uber driver in his leased Tesla. He's trying to get ahead, and lives in his "sweet motor home" while taking online courses in the hope of getting a job in computer science.
Philips, who immigrated from Turkey five years ago, thinks himself lucky to share the view with mansion owners without draining his savings.
He's a member of a community of Vancouverites living in vans, trailers and other recreational vehicles parked across the city.
Some, like Philips, use it as an economic strategy to cut costs as they plot a course to prosperity.
Others have opted for a nomadic lifestyle, and plan to move on.
But more people are sleeping in vehicles as a last resort, as they try to stave off full-blown homelessness in the notoriously expensive city.
Philips said in an interview in November that he used to pay monthly rent of $1,600 for a one-bedroom suite in North Vancouver. When his rent went up to $2,300, he decided it didn't make sense.
"The rent prices are just skyrocketing and it's really feeling not that great when you pay for rent with half of your income," he said.
So, he bought a van and started living at Spanish Banks in October. Side benefits to the savings were that it made him feel closer to nature, and he enjoyed the van community's friendly vibe.
He said he hoped to move back into an apartment this year to better focus on his studies.
However, others have embraced life on wheels.
Retired Californian mechanical engineer Alex Mosson, 58, was parked last week at Spanish Banks in a beige recreational vehicle he called his "tiny house."
He offered wine from a rack as he prepared a pot of clam chowder, with bacon and sourdough bread fresh out of the oven.
Newly arrived in Canada, he was joined by girlfriend Massie McCloud, 52, a retired airline pilot who lives in Kitsilano. They were planning to spend a few more nights in Vancouver, then Whistler, then head for Mexico, where Mosson used to live. In March, they plan to return for a cross-Canada journey, said McCloud.
"Don't get other people jealous," interjected Mosson.
McCloud likened the RV to "a giant backpack."
"You have all your things with you," she said. "Part of the reason we are both excited about doing this trip is that we both had really confined lives for the last several years," said McCloud, who added that she is recovering from long COVID.
But not everyone on wheels has a choice.
Over several visits to Spanish Banks, many residents appeared to be living out of cars and pickups, ill-equipped for the purpose.
Their windows were screened with makeshift curtains for privacy, their back seats and truck beds packed with possessions.
The residents approached in these situations were more cautious.
November rain dripped off the face of one man as he made repairs to his white box truck, strewn in black graffiti. He declined to give his name for an interview, saying he found his circumstances humiliating.
Dean Kurpjuweit, president of Vancouver's Union Gospel Mission said vans and trailers have become a way for some working people to stay in the city amid high conventional housing costs.
But the mission "will never advocate for living in vans as an alternative housing solution," he said.
"We buy trailers to go on vacations. … But nobody wants to permanently (live there)," he said.
Kurpjuweit said his group had helped people move from recreational vehicles into supportive housing.
He said there is a difference between the "wilderness experience" of an RV, compared with cramped and inconvenient long-term life in the city.
Living for an extended period in a trailer in Vancouver is mostly due to the "reality of the housing market here," said Kurpjuweit.
Local residents said in summer and early fall that hundreds of people were living in vehicles at Spanish Banks. Dozens were still there in the fall, even after the City of Vancouver started warning people to move on, although their numbers dwindled with the onset of winter.
There are other campers in less scenic locations, clustered near big-box stores or scattered on quiet side streets.
Keith Light, 76, used to own a home on Pender Island, a 40-minutes ferry ride to Swarts Bay on Vancouver Island. But for more than half a year he's lived in a recreational vehicle, now parked outside an east Vancouver Canadian Tire store.
In 2021, Light sold his island home to pay off debts. He said this week that it wasn't until he'd relocated to Metro Vancouver that he realized housing costs were "ten times higher" than on Pender.
He lived with a friend, who got "a little tired" of his presence after about a year, and he moved out in May.
"So, I got online and found this R.V. I got a pretty good deal on it, and it cost me $19,000," said Light, who lives on a monthly pension of $1,900.
He said it was comfortable but not a permanent solution.
For one thing, the van has no electricity. Light said two external generators had been stolen and the vehicle's built-in generator didn't work.
There's also a sense of insecurity faced by most vehicle dwellers.
It's illegal to park a large vehicle on the street or in parks in Vancouver between 10 p.m. and 6 a.m., including at Spanish Banks, although exceptions apply. 
Vancouver Board of Parks and Recreation spokeswoman Eva Cook said in a statement that illegally parked RVs remain a "challenging issue" in many communities.
Since October, 47 notices reminding owners of parking rules were issued and most vehicles parked overnight at Spanish Banks had moved, she said.
Cook said it was still working to "educate" users that overnight parking isn't allowed in parks.
Paul Kershaw, a policy professor at the University of British Columbia's school of population, said many people living in vans are "just as smart and as hard-working" as homeowners.
But some have been born too late and are now locked out of Vancouver's real estate market or are facing prohibitive rent on even a one-bedroom apartment.
Vancouver remains the most expensive place to rent in Canada, with the average price of a one-bedroom apartment now going for $2,633 per month, according to the National Rental Report issued last month.
Saving up for a home is also out of reach for many.
"In the mid-'70s, it took the typical young person five years of full-time work to save a 20 per cent down payment on an average-priced home. Now it takes 17 years," said Kershaw.
Jenny Tan, a city councillor in Maple Ridge, east of Vancouver, is all too familiar with the region's high housing costs.
She used to live in Vancouver's West End in a trailer, an experience that compelled her to get into politics to try to make things "a little more affordable."
"I will be super honest, if I had a choice, I wouldn't be doing it for fun," she said.
She lived in her trailer for three years as "cheerfully and optimistically" as she could, equipping it with a projector and hosting board games with friends.
"But look, I wouldn't have chosen that if there was a one-bedroom apartment that I could rent somewhere," said Tan.
She said she ended up in a trailer in 2017 after doing "all the right things in life" by graduating from university and landing a decent job.
With money tight, living in her trailer was better than paying rent. But the downsides outweighed any sense of fun.
"Living in a trailer, you are constantly in fear, stressed about losing your spot, about the bylaw officers," she said. "For the years I lived in my trailer, I had no hot running water."
Tan eventually moved into her parents' house and considered her trailer life a learning experience. "But it was not the thing I would have chosen," said Tan.
In east Vancouver, Light agrees.
Living in an RV is better than sleeping on the street, but what he really wants is a permanent home.
He said a renter should have to pay no more than 30 per cent of their income to put a roof over their head.
"I'm really, really hoping that I can get a bachelor suite or one-bedroom in one of these subsidized housing units in Vancouver," said Light.
He said he spent a year on the waiting list with BC Housing.
"But unfortunately, the only way the places come up are basically when somebody dies. And that's pretty bad. That's also a sad thing."
This report by The Canadian Press was first published Jan. 6, 2023.
This story was produced with the financial assistance of the Meta and Canadian Press News Fellowship.