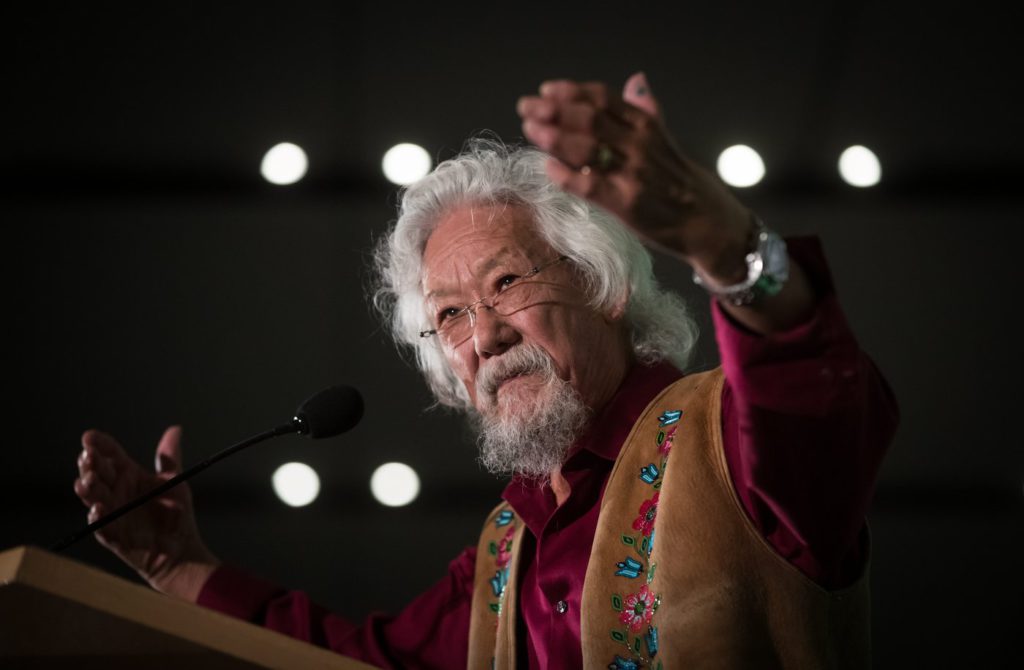 THE CANADIAN PRESS/Darryl Dyck
After 44 years as the face of Canada's premier science TV show, you might expect David Suzuki to feel a little sadness and a little nostalgia as he steps down as host of "The Nature of Things." Not so.
"Happy as hell," he laughs over Zoom from his Vancouver office.
"I'm an old guy. It's the next stage of my life. What the hell — it's reality."
Friday night marks Suzuki's last appearance as the host of the show that was founded in 1960 and which he, after taking over as host in 1979, turned into a byword for science outreach. Over nearly four and a half decades, he's led Canadians on a journey through topics as outré as bug sex and animal music, and as serious as the Underground Railroad and the fight to preserve old-growth forests.
But Suzuki, 87, says the most important thing he's learned over the years has nothing to do with the subjects of his show's hundreds of episodes.
"Hanging in is the most important thing," he says.
"Television is a medium where the latest thing is all wow-wow. Every fall you get the launch of all the new shows and, by the end of the season, 90 per cent of them are gone. And there's old 'Nature Of Things' still chugging along and still pulling in an audience.
"The most important thing is to keep getting our message out."
That message has remained consistent. The show aired its first episode on climate change in 1989. It's done pieces on vanishing species, forest conservation — all of which remain in the news today.
"What the hell is going on?" he rages. "Why are these issues still with us?"
Suzuki promotes what he calls "two-eyed seeing." Western science and economics are powerful ways to examine the world, he says, but they're not the only ones.
"Science, of course, gives us the best measure of what's going on in the world, but you need a bigger context to see what we're studying. And that is the kind of Indigenous construct that has worked for Indigenous people for thousands of years," he says.
"Let's not think that we know enough to manage these things unless we do it within a bigger picture."
Scientists, he says, bear some responsibility. Suzuki, once a prominent geneticist, believes researchers have a duty to go past the disinterested pursuit of knowledge and alert their society to the consequences of what that knowledge means.
He points to the example of the late David Schindler, the renowned University of Alberta water scientist who was an early and persistent voice on the environmental impact of Alberta's oilsands.
"He was absolutely committed to his science, but then he looked at the implications and used the science he knew to advocate for positions," Suzuki says.
"I think every scientist should be an advocate for taking science seriously and pointing out what that science tells."
Suzuki himself has not shied from advocacy, particularly on climate change. In some circles, his name is a byword for meddling, do-gooder environmentalism and he is a polarizing figure.
Any regrets about his uncompromising approach? Well, one.
"I'm very unhappy," he says. "I should have been much stronger."
Love it or loathe it, don't expect that voice to fade. Suzuki may be leaving "The Nature of Things," but he's looking forward to a new platform as a video blogger — although details remain sketchy on that.
Meanwhile, "The Nature of Things" will, in his words, hang in. The show will continue under co-hosts Anthony Morgan and Sarika Cullis-Suzuki — the latter, his daughter.
"I'm delighted with the replacements," Suzuki says. "They're terrific. I've had a good run and the most important thing is the series."
Suzuki has documented more environmental crises than he cares to remember. But that experience, he says, has given him a unique perspective on the word "hope."
"Hope is action," he says.
"If people are going, 'oh, yeah, things are really bad, I hope it works out,' that's not hope. That's hopium. That's giving you an excuse not to do anything.
"If you're not acting, there is no hope."
This report by The Canadian Press was first published April 7, 2023