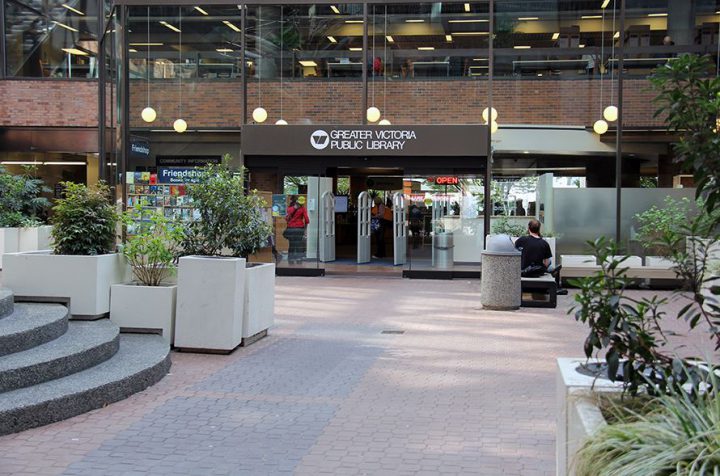 If you live in the Victoria area, you'll soon be able to visit a library again.
The Greater Victoria Public Library (GVPL) has announced a multi-phase plan to reopen its branches over the coming months.
Phase one of GVPL's reopening plan will begin in late June with the reopening of the Central branch, located at 735 Broughton St. The GVPL did not provide an exact date but said when the Central branch does reopen, it will be open Monday to Friday for four hours each day. Visitors will be able to place a holds on items from the library's catalogue and pick them up from the branch. They'll also be allowed to visit the library and view and borrow a "limited collection of material."
Additionally, the James Bay, Langford Heritage and Emily Carr branches will accept library returns via automated machines. Furthermore, a library vending machine at the Langford Heritage Branch will be available for people to use.
"Libraries are strong and resilient, just like the communities we serve. The way we have delivered library services has changed over the years, and it will continue to do so. As we restore services, please know that how we fulfill our vision will not change the vision itself," Maureen Sawa, chief executive officer of the GVPL, said in an update on their website, adding. "On behalf of our library board, our municipal partners, our staff and our volunteers: we have missed you, and we look forward to seeing you again."
Phase two of the GVPL's plan calls for six additional branches — James Bay, Saanich Centennial, Central Saanich, Juan de Fuca, Oak Bay and Bruce Hutchison — to reopen to the public for four hours a day in July and August. Those libraries will allow visitors to enter the facility, view and browse material, and will accept returns and pickups. Libraries would be open Monday to Saturday.
Phase three will result in the assessment of the remaining branches — Goudy, Esquimalt, Nellie McClung, Langford Heritage and Emily Carr —  in June and July and will "incorporate what [GVPL] have learned" in previous phases, according to the GVPL's website.
The GVPL said they will announce the reopening date of the Central branch two weeks ahead of its planned opening.
Earlier this month, the GVPL announced that it would lay off more than 160 employees due to the coronavirus pandemic. GVPL did not specify how many staff members would be brought back throughout its phased reopening plan.