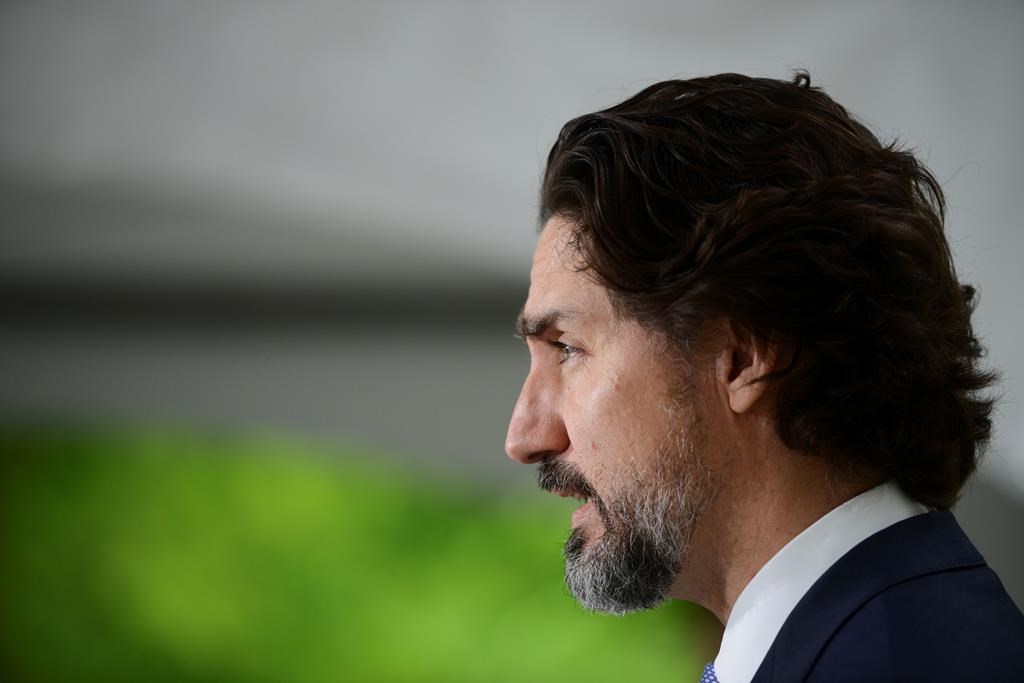 Sean Kilpatrick / The Canadian Press
Prime Minister Justin Trudeau said that Canadian health officials will be releasing updated coronavirus modelling data projections on Monday.
During a press conference from outside Rideau Cottage in Ottawa, Prime Minister Trudeau said the new federal projections show continued progress in suppressing COVID-19, but with significant hotspots.
He said that a presentation will be given later on June 29, but summarized the findings during his morning address.
Trudeau pointed out that the data shows the restrictions Canadians have lived with through the spring have worked to get the novel coronavirus under control.
"We still have some hotspots in some parts of the country, but nationally, the number of cases, hospitalizations and deaths is declining over time," said Trudeau.
The prime minister said that a large part of the flattening curve is a result of Canadians listening to national health officials.
"You took this seriously, you followed public health instructions, and made sacrifices so we could get this virus under control," Trudeau added.
Trudeau did caution that if citizens let up, the country could still be at risk, warning that a new explosion in cases could mean a return to tight restrictions.
The prime minister points to rising COVID-19 numbers in the United States, suggesting they demonstrate the need for continued vigilance north of the border, including keeping physical distances from each other wherever possible.
More details on the federal government's outlook are to come by mid-morning.
In addition to the summary of the modelling projections, the prime minister announced that the federal government is looking to extend another aid program amid the COVID-19 pandemic.
Trudeau said that the government is intending on extending the Canada Emergency Commercial Rent Assistance program by one month.
According to the prime minister, an extension is in the works and conversations are being had with the provinces and territories in order to finalize details.
The rent relief has to be agreed upon by the provinces and territories, which have jurisdiction over rents, according to Trudeau.
"This program is helping thousands of small businesses across the country to save on rent," said Trudeau. "We know that many business owners are struggling with cash flow right now so we're working on a solution."
The program, which was initially announced in April, is aimed at helping small businesses pay their landlords amid the COVID-19 pandemic. The government has been working with landlords to help cover up to 75 per cent of the commercial rent for small businesses across Canada.
The initial program was slated to support businesses through April, May and June, however, the extension would offer rent support for July as well.
As part of today's update, Trudeau said that public COVID-19 briefings will no longer be daily, however, be scheduled a few times a week when there is new information to announce.